The Unique Guitar Blog
All things guitarmarcus oharahttps://plus.google.com/112071189804804352234noreply@blogger.comBlogger360125
Updated: 14 hours 46 min ago
Some people call him the space cowboy yeah,
Some call him the gangster of love,
Some people call him Maurice,
'Cause he speaks of the pompitous of love.
Over the years, guitarist, singer, and songwriter Steve Miller has amassed a collection of more than 450 guitars. The Music Zoo in Long Island, New York is selling about 25 instruments from his collection. Most notably are his Les Paul guitars.
Steve Miller
gets his affection for Les Paul honestly since Les was his godfather.
Miller's father was a jazz aficionado who met Les in 1948 when Les Paul and Mary Ford were playing at a Milwaukee jazz club. Dr. George Miller aka Sonny asked Les Paul if he would mind if he recorded his show on his tape recorder. (In addition to being a pathologist, Dr. Miller was a recording engineer).
Afterward, Les listened to the recording with Sonny and Bertha Miller and a friendship developed. It is worth noting that Steve's mother, Bertha, was a gifted jazz singer.) In fact Les and Mary spent the night at the Miller's house.
As early as age 4, Les Paul encouraged Steve Miller to play guitar. The two men maintained contact with each other up though Les' passing.
One of the first items to be sold was
Miller's 1976 Les Paul Recording guitar.
Though this guitar never became a hit with players, it was an instrument that Les Paul personally designed and was one of his favourites.
This guitar featured low impedance pickups
for recording that could changed to high impedance with the flip of a switch. These low impedance pickups were Les' ticket to getting all those guitar overdubs back in the early days of multi-track recording.
By bouncing from track to track, the original signal dissipates with each successive pass. This does not happen with a low impedance signal.
The guitar could get a sound like a Rickenbacker, or back it off and it sounded like Wes Montgomery's Gibson L-5.
Les' own Gibson Recording guitar
sold at auction for $180,000 after his death. The buyer must have known it was Les' favourite guitar.
In addition to Steve Miller's Les Paul Recording guitar,
the Music Zoo
is offering twenty-five of Miller's personal instruments for sale to the public, and some are being sold at a very reasonable price.
Miller is parting with several replicas from the 2010 limited run of
Eric Clapton's famous 1959 Gibson "Beano" Les Paul.
Clapton used this guitar when he played with The Blues Breakers.
The cover photo of LP,
Blues Breakers With John Mayall
, features a young Clapton reading The Beano comic book.
The Beano
was a popular collection of comic strips that was available in the U.K. and is still in publication. Guitarists knew about the Les Paul that Clapton used during this era, hence the name. Unfortunately the original Beano guitar was stolen in 1966.
Since then Gibson's custom shop has made some replicas. Miller's four Gibson Beano Les Pauls range from an asking price of $10,000 to $30,000 USD.
There are also two Miller
"Joker"
Standard black Stratocasters for sale at $5,000
Each guitar has a harlequin-like representation of
The Joker
on their bodies.
Four other Fender Stratocasters are offered.
One is called Children of the Future. This was a guitar has a unique design on the front that is based on the cover of Miller's
Children of the Future LP.
The other strat is a
Fender Museum American Standard model
in Olympic White with a maple neck and is autographed by other guitarists. Etched in the top of the body is the Fender Museum logo.
The third strat is a black Fender of unspecified vintage
. It has a maple neck and the body is tastefully bedecked with a white/black emblem from the end of the bridge unit to the back of the guitar, and an orange Fender sticker that says "I'm a Champion" with Steve Miller's autograph.
The fourth Stratocaster style guitar that was made by John Bolin guitars
of Boise Idaho. The body one this instrument is finished in white, and the neck is made of birdseye maple. There is no logo on the headstock.
There are only two acoustic instruments being offered. Both guitars are 12 string models made by Martin.
One is a
Martin Grand J-12 40E
, that has a bound neck, and headstock, and lovely rosette work. The top is made of solid Sitka spruce, while the bookmatched back, and sides are solid east indian rosewood. The Martin logo is inlaid in abalone in the headstock. At $5,000 it is a bargain.
The other Martin is a 12 string Martin Sing J-12SO 60th Anniversary Pete Seeger model
baritone guitar meant to be tuned from low to high C. This guitar was based on
Pete's personal 12 string guitar made by luthier G. Stanley Francis of Liverpool, UK,
that had unusual pickguards. The top is solid Sitka spruce, while the back and sides are east Indian rosewood. The 27.5" scale neck is made of mahogany with an ebony fretboard. The headstock veneer appears to be made of polished ebony with Seeger's signature and his sketch of a banjo. It is also selling at $5,000.
The most unusual instrument being offered is Miller's 5-string electric mandolin that was made by
Joe Vallee.
This electric mandolin has a unique shape and comes with a single lipstick pickup and a tune-o-matic bridge. The instruments top is a lovely red-orange burst, while the back shows the natural wood patina. The fitted neck is made of three pieces. Because of the mandolins unusual shape, instead of a case, it comes with a padded "Wilson" brand tennis racket soft case.
Miller's collection includes one archtop, jazz style model, which was made by Bolin guitars.
It is called The Pegasus.
The top appears to be spruce, with maple used for the sides, back, and neck. The "F" holes are done in an unusual Pegasus design. This guitar has twin EMG pickups with one volume and two tone controls. The bound maple neck is topped with a rosewood fretboard with unique position markers. The headstock shape is also quite unique and topped with birdseye maple veneer. The strings go over and ebony bridge with adjustable saddles and are attached to an ebony violin style tailpiece.
Miller's collection includes two other Bolin model. This one is in the shape of a
Gibson ES-335.
The bound top is flamed maple that is book matched with a sunburst style. The guitar includes two humbucking pickups, with only a single volume and tone control, plus a selector switch. The bound back is equally impressive with book matched flamed maple. The flamed maple neck has a single skunk stripe. It is offered at $5,000.
The other is a gorgeous
Les Paul style guitar
in a cherry sunburst finish with Seymour Duncan 50th Anniversary pickups. It is priced at $5,000.
Another one of Miller's Gibson Les Paul is available for $5,000. This is a 2011
Lou Pallo Signature model
. It has a beautiful black top and a natural back. Lou Pallo was the guitarist that played in the Les Paul Trio.
The Miller collection includes not one, but two Gibson EDS-1275's,
The first custom shop double six 12 string has an all white finish.
It is wired in the same manner as Don Felder of the Eagles had his guitar wired, and is even autographed by Felder on the back of the headstock and numbered. It comes with a certificate and a copy of sheet music for Hotel California that is signed by Felder.
The other EDS-1275 is a 2008 custom shop version of the famous double neck used by Jimmy Page
on Stairway to Heaven. It comes with a certificate of authenticity and is one of 250 instruments produced. Both double necks come with the original hard-shell cases.
Steve Miller is also offering his
White Les Paul Jr
that was made by Gibson's custom shop.
Aside from the Clapton Beano replica Les Paul's, Miller has three other excellent Les Paul guitars.
Two of them are Gibson Billy Gibbons Pearly Gates Les Paul guitars with VOS (vintage original spec) nitrocellulose finishes.
Both are 2009 models that were produced in limited editions from Gibson's custom shop and are replicas of the
Reverend Gibbons famous 1959 Les Pau
l right down to the exact neck profile. Both guitars contain twin Seymour Duncan Pearly Gates pickups with vintage hardware.
The final
Les Paul is a Gibson custom shop recreation of Warren Hayne's 1958 Les Paul
in what is described as "Haynes-burst", which is a faded out cherry sunburst finish that has been faithfully recreated on this instrument. The guitar is autographed by Haynes on the back of the headstock.
It features all the changes that Warren Haynes included on his own instrument. The frets come over the binding, which most professional luthiers and guitar techs would frown upon, but this is Haynes' preference.
The pointer under the controls lay flat against the body, and this instrument is equipped with Gibson's CAE sound-unity gain buffer, which keeps the levels consistent on both pickups when raising or lowering volume. The Haynes Les Paul is equipped with twin Burstbucker pickups.
The final guitar offered from the MIller collection is a
black 2010 Asher Telecaster style guitar. T
his is a custom made guitar from
Los Angeles luthier Bill Asher.
The body is made of alder and the 22 fret neck is Birdseye maple, with a six on a side headstock. The pickups are hand wound Asher T-blade models. It features a Glendale bridge and chrome hardware. It is offered at $3,500 USD.
Click on the links under the pictures for sources. Click the links in the text for additional information.
©UniqueGuitar Publications (text only)
The first multi-neck guitars were more than likely harp guitars. These instruments sometimes had an additional neck used to attach the bass strings, harp or sympathetic string and the tuning pegs.
The earliest example of a true double neck guitar is from the year 1690. A guitar of that era, small by today's standards, was built by luthier Alexandre Voboam of
Paris
. This unique guitar had a smaller sized guitar jutting out of the instruments lower portion. Both guitars/necks had five courses of gut strings; however the smaller guitar/neck was tuned to a higher pitch. This allowed the player to play in a low key or a high key and use similar fingerings.
Harp guitars and other multi-neck instruments were not produced on a large scale until the late 19th Century. These were instruments that allowed an individual player the ability to produce a much broader sound due to the addition of bass strings or sympathetic strings.
The sympathetic stringswere not strummed or plucked, but naturally made sound based on the vibrations of the fingered strings. There were few mandolin/guitar combinations produced in this era that allowed the player to change instruments during a song or saved them from having to carry two different instruments. Plus a double neck guitar looks great on stage.


One impetus that may have caused the creation of double neck guitars was the rise of interest in the steel or Hawaiian guitar.
During the late 18th Century, Spanish speaking Mexican cowboys arrived in Hawaii bringing with them their guitars. The arrival of the guitar in Hawaiicould also be attributed to missionaries.
Hawaiians took to the instrument andmade the guitar their own by tuning it differently and often to open chords.
As the years progressed, we can turn to the early 20th Century when Hawaiian music became popular inthe United States.
During this fad, guitar companies including Martin built instruments that were meant to be played on a persons lap. Instead of fingering chords and notes these guitars were played by use of a metal bar pressed against the strings. It wasn't too long before the lap steel became electrified.
Since a lap steel player was limited to keys within the open chord which the instrument was tuned, the obvious answer was to add another neck that was tuned to a different chord. By the 1920's and 1930's folks like Alvino Rey were playing multi neck electric steel guitars with popular orchestras. Rey had Gibson Guitars build a double neck steel guitar for him and not long after he was playing three and four necksteel guitars.

During the era of World War II, much of the guitar building business was halted as manufacturers turned their attention and fabrication to building weapons and vehicles for the United States armed forces.
By the end of the war, Leo Fender had his own radio and television business in California. He also repaired guitar amplifiers.
It was not long before he realized a profit could be made by building amplifiers forthe electric steel guitar players from nearby
Los Angeles
and the surrounding area. He teamed up with his friend, Clayton "Doc" Kauffmann who had worked for Rickenbacker Guitars. The two men began designing and building steel guitars, and electronic pickups.
Traveling musicians stopped by and provided ideas of their needs. Fender went on to build two and three neck steel guitars, before turning attention to the electric Spanish guitar.
Meanwhile in another part of California, motorcycle enthusiast, Paul Bigsby, was casting his own parts for his bike. He began building his own version of the electric Spanish guitar. Though his instruments may have looked like solid body instruments, they were actually hollow to hold the wiring. Bigsby also built a vibrato unit that gave players an added dimension to their sound. His version of the guitar vibrato was built out of motorcycle parts including piston springs.
Guitarist Grady Martin asked Bigsby to build him a guitar that also had a mandolin-like neck. What resulted was an instrument which had a guitar neck, with three pickups and a Bigsby vibrato and a smaller neck with six individual strings tuned an octave higher. It
wasn't
a mandolin, as the strings were individual and not in courses, but itdid give Martin a unique sound.
Apparently Grady Martin's Bigsby Double Neck was not the first that Paul Bigsby built. He built at least six double neck instruments. In those days, production records were at best sketchy.
$266 K Bigsby
It is worth noting that recently a 1949 Bigsby guitar sold at auction for over a quarter of a million dollars.
One of Bigsby's employee's was Semie Moseley. This is the same Semie
Moseley that went into business in a
Bakersfield California
garage, building his own brand and naming it Mosrite Guitars.
Around this same time, the early 1950's, Joe Maphis was a popular Country and Western guitarist and was a regular performer on a television show produced out of
Los Angeles
called TownHall Party. Maphis' style was playing blazing fast arpeggios on the guitar.
Semie Moseley struck up a friendship with Joe Maphis and his wife Rose. Rose Maphis played rhythm guitar with her husband. Moseley built several beautiful personalized double neck guitars for Maphis. He even took Rose's Martin guitar and customized it with a handmade Mosrite neck and he added a fancy large pickguard to the dreadnoughts body.
The exposure Maphis brought to Mosrite guitars paid off big time. A similar double neck instrument was custom made for pint-sized Larry Collins who was Maphis' protégé and could match Joe note for note. All of the early double neck guitars Semie Moseley made had a guitar neck and an octave guitar neck.
Moseley did create one triple neck guitar in 1954. This instrument included a guitar neck, an octave guitar neck and a mandolin neck.
While on that subject, it is possible that Doc Kauffmann, who was Leo Fender's long time business partner might have built a triple neck guitar under the brand Kremo Kustom. It is known that Kauffmann didbuild some guitars using that brand name.
Another builder was a South Carolina fellow named Pee Wee Melton. He built a triple neck guitar for himself, but later sold it to Johnny Meeks. Meeks claim to fame was as one of the guitarist who played for Gene Vincent and his Blue Caps. It was an attention-getter. Meeks eventually sold the guitar to Vincent.
But here I am digressing from the topic of double neck guitars.
In the mid 1960's when Semie Moseley's Mosrite Guitar Company was doing a brisk business, the company did offer a production twelve/six string double neck guitar for sale to the public. This guitar featured a twelve string neck on the guitars top and a six string neck underneath. Both sported twin Mosrite single coil pickups with black covers. The twelve string utilized Mosrite's version of tune-o-matic bridge and the strings were anchored onto a chromed bar held into the body by three wood screws.
The six string neck featured Mosrite's classic vibramute vibrato. The necks had micro-dot position markers on the rosewood fretboard. All Mosrites had a zero fret. These guitars were offered in various colors, with the most popular being sunburst.
Hallmark Guitars are stillin business. This company was started by Joe Hall. This story about Hall's relationship with Semie Moseley is very interesting. He had asked Semie to build him a guitar. Somehow Hall wound up working at Mosrite and learned to build guitars using Semie's methods.
Joe Hall left Moseley's employment and building guitars under his own brand, that bore Mosrite traits. Hall's most popular model was called the Swept Wing.
I do not know how many double necks he built. This guitar was specially built for Deke Dickerson.
After Moseley and Bigsby's creations, it was not too long before other guitar companies began to eyeball the prospect of making double neck guitars.
One of the first that I came across was Carvin Guitars of California. Lowell C. Kiesel's company first offered double necked electric guitars in their 1959 catalog. Long before the internet this company based their sales on catalogs. They still do. I recall ordering a Carvin catalog around 1963. What I received was a very plain document with black and white pictures of the guitars, guitar kits and amplifiers that Carvin offered.
I also received a typewritten page of price updates. During the early days of Carvin some of the guitars featured necks and bodies made by the Hofner Company of Germany.
Their first double neck offering was a guitar and bass. The necks were the same length, so the bass was short scale. The body was made of maple. The guitar had twin single coil pickups that were about the size of P-90's, while the bass had just one pickup.
Their other double neck was a guitar and an eight string mandolin combination that came with a similar set up. These guitars were very plain and had a natural finish. The small bodies on these guitars were unusual
These styles were offered through 1967.
By 1968, the Carvin double neck had more of a guitar shaped body with necks probably imported from Hofner. By 1971, the guitar neck was similar, but the bass neck had a more refined headstock. In 1972, Carvin changed the shape of the twelve/six model.
It was in 1976 that the Carvin double neck guitar had a body that looked more like a small Les Paul. The necks were bound and topped with an ebony fretboard. The large rectangular position markers were made of mother-of-toilet seat. The humbucking pickups came with a chrome cover. The 1978 catalog shows a similar body with open humbucking pickups.
These instruments looked more like the guitars that we now associate with the Carvin Company.
By 1979 the double neck was no longer offered. By 1980, the double neck was back with a new improved shape.
In 1990-91 Carvin offered a twelve/six model. Both had pointy headstocks and tuner on one side. By 199, Carvin discontinued their line of double neck guitars as a standard option.
Jimmy Bryant was a well known guitarist in the 1950's. Much like Maphis, Bryant's style was fast, but more in the jazz and swing realm. Early on Bryant was one of the first Fender endorsers playing a Fender Broadcaster. But he was looking for a new sound and came upon a guitar builder from Springfield Missourithat was building guitars under the name Stratosphere Guitar Company.
They built a Six and Twelve String double neck for Bryant. He used this guitar throughout his career. The Stratosphereguitar was rather unusual looking. It sported the maple twelve string neck on top and the maple six string neck underneath. Oddly, the headstocks for both necks were slotted. The body was offset and small. There were two single coil pickups for each neck. The neck pickups were parallel and the bridge pickups were slightly slanted.
Both necks had steel offset bridges and stop plates to attach the strings. A switch was near the stop plates that allowed the player to switch the necks on or off. There were two sets of controls, volume and tone for each neck as well as selector switches. There is also a slider switch on the lower side of the instrument.
Bryant tuned the six string neck in a normal manner; however, he tuned the twelve string neck to major and minor thirds.
The first was called the Double Twelve. This was later designated the EDS-1275 (Electric Double Spanish.)
The Double Twelve was a beautiful instrument. The body on these instruments was different than the SG shape we associate with the EDS-1275. The Double Twelve came with two humbucking pickups per neck.
A switch near the bridge plate provided the option of switching the electronics to either neck. The electronics were two volume and two tone controls and a pickup selector switch that controlled the pickups on either neck. The twelve string neck was on top with the six string neck on the bottom. In my opinion this was possibly the finest looking of all the twelve string double necks. The double cutaway body was thicker than the SG and it was bound in white trim.
The company also offered the Double Mandolin. This later was named the EMS-1275 (Electric Mandolin Spanish). This was similar to the double necks that Moseley and Bigsby had made in that it came with a guitar neck and an octave guitar neck. The guitar neck sported twin humbuckers, while the mandolin neck only had a single humbucker. Once again, the body shape was much different than the SG shape.
The controls for each neck were mounted on the lower bout under each neck. Both featured a single volume and tone control per neck. The switches were mounted near the string stop plate. The one for the guitar side controlled the neck and bridge pickups, while the switch mounted near the octave guitar neck controlled which neck was active. This instruments body was also bound in white trim.
It was in 1962-63 both of these double neck instruments were reinvented using the SG shape. Gibson also added EBS-1250 to the line up. This was a combination of a six string guitar and a four string bass guitar. The bass guitar came with a built-in fuzztone. This line up was offered through 1967, with the double bass being offered through 1968.
The EDS-1275 was revived in 1974 and offered through 1998. The Nashville factory continued to build the EDS-1275 through 2003. The Gibson Custom Shop began building the EDS-1275 in 2006.
The Epiphone version has been available for many years under the model G-1275. I believe the initial models sold under the Epiphone brand had bolt-on necks. The current production model comes with set necks.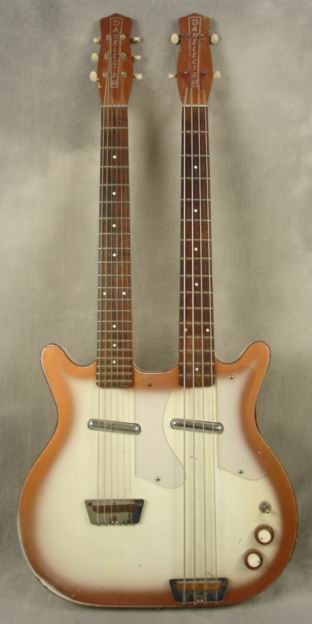 1963 Danelectro
Nate Daniels had been building amps since 1948. His amplifiers were mainly sold through catalog companies such as Sears and Roebuck and Montgomery Wards.
It was not until 1956 that he introduced the Danelectro line of guitars.
Danelectro entered the double neck market with its 1959 advertisement of Stan and Dan; two clean-cut young men of the day both decked out with white shirts, Hagar slacks and DanelectroShorthorn double neck guitars. The top neck was a six string guitar and the bottom neck was a bass guitar.
While the guitar was a normal 24.75" scale with 21 frets, the bass had a short scale of 29.5" with only 15 frets. The Danelectro double neck was also available as a six string guitar and six string baritone guitar.
As usual, both necks had two Dano lipstick pickups.
The Masonite Danelectros lasted until 1966 when Daniels sold the company. In 1998 the company was resurrected under new ownership. This company made guitars through 2001. They offered two versions of the double neck. One was a six/twelve string model and the other was a six string guitar and a six string baritone guitar. Both were nice instruments with a great price.
Danelectro guitars looked cheap, but sounded great and were used on countless recordings.
In 1961 Gretsch Guitars was looking for new ideas and came up with the Gretsch Bikini Guitar. This was one very odd concept. It was sold as a guitar or a bass guitar or as a double neck bass and guitar. The neck/pickup/bridge unit was mounted so it could slide out of the body. The body had a hinged back and could be folded down the middle. The player could fold back the body of the separate instruments and combine them into a double neck. This was one of those gems that looked good in theory, but was not at all practical.
This is a Gretsch Anniversary double neck. Gretsch currently offers a guitar/baritone guitar doubleneck.
After the British Invasion a flood of Japanese and Korean made guitars arrived in the United States. As you may have guessed some of these were double neck guitars. Greco/Kawai was a Korean manufacturer. This is a 1968 Bass/Guitar double neck.
This is a 1970 Aria copy of a Gibson double neck.
I have noted that some early Carvin guitars were made of Hofner parts. Note the similarity between this Hofner double neck from the very early 1970's and Carvin's double neck of the same era.
Another German guitar manufacturer named Hoyer built this 1970's model.
Rickenbacker built and offered several models of double neck guitars including a bass/six string using their 4001 template and a twelve/six string using their 360 design.
The B.C. Rich, Ibanez and Kramer guitar companies have all built special order guitars for artists, such as Eddie Van Halen, Michael Angleo Batio, and Dave Mustaine.
Often these guitars have two six string necks and are played by using the tapping method.
There were and are a few companies that make acoustic double neck guitars. For years Ovation guitars offered a twelve/six model. This is now made offshore under their Celebrity brand.
Around 1979 Yairi guitars offered the model DY 87. This was a wonderful guitar. It sounds great and very easy on the fingers.
In the late 1990's, the Washburn Guitar Company offered a twelve / six string guitar designated the model EA220 six/twelve string guitar in
their Festival Series.
I have recently profiled Blueberry Guitars. They make some fine instruments with intricate inlay and wood carving designs. All their guitars are handmade.
They offer several double neck models which include a six / twelve string guitar, a double neck with two six string necks and fan frets, as well as a six string / 4 string acoustic bass guitar. Blueberry does not sell it's instruments in stores. Business is done only online.
Here is a Martin Double Neck Guitar made by their custom shop.
The clip below will give a better understanding of Jimmy Bryants odd 12 string tuning on his Stratosphere double neck. On the 12 string neck each string has two pitches that mimic the sound of two guitars. A guitarist today could use a harmonizer for the same effect. In 1956 that technology did not exist.
On May 31st an event auction was hosted by Brooklyn Bowl for Jerry Garcia's Wolf guitar. The auction was done by Guernsey's Auctions.
This guitar, which was first used by Garcia in 1973 at a New York City show, sold to Brian Halligan, the cofounder and CEO of the marketing software company
HubSpot
for $1.6 million plus a $300,000 premium, bring the total winning bid to $1.9 million.
Halligan, cowrote the book along with David Meerman Scott,
"Marketing Lessons from the Grateful Dead: What Every Business Can Learn from the Most Iconic Band in History."
The recipient of the money is the
Southern Poverty Law Center
.
The bid was then matched by another anonymous donor, making the total gift an amazing $3.5 million. This is the most money generated from a guitar auction.
The event also featured drummer Joe Russo leading an all-star cast, which included his own Grateful Dead tribute band known as
Almost Dead.
Wolf was the first guitar that
luthier Doug Irwin
designed for Garcia.
Its body was mad of curly maple and purple heart wood. Garcia found a sticker of a cartoon wolf and placed it below the bridge.
Through the years Garcia had several modifications performed on the instrument. The last time Jerry used the guitar was in February of 1993. He passed away 2 years later. He can be seen playing it in the Grateful Dead Movie.
The Wolf guitar
was created as a result of Garcia visiting a San Francisco music store. While there he came across a very unusual guitar and inquired about it. He was told it was built by a guy named Doug Irwin. Garcia came back a few days later to buy that guitar.
Irwin tells the story that he was in the back of the store putting pickups on that particular guitar. Irwin says a couple of guys from the store came to the back room and told him that Jerry Garcia wants to buy your guitar. He thought they were joking.
The guys came back a couple of times to get him and Irwin finally brought the guitar to the front of the store. Jerry told him that he liked the way the neck felt and he asked him to make another guitar.
This Irwin built guitar came to be called The Wolf.
Doug Irwin would go on to build four guitars for Garcia.
Irwin had just started building guitars at Alembic. This was a company run by Ron Wickersham, an electronics and sound expert that previously worked for Ampex, Rick Turner, a luthier and guitarist, and Bob Matthews, a recording engineer. The company started in a rehearsal room for the Grateful Dead, so there was an immediate connection between Alembic and the band.
As the story goes, Doug Irwin was recently hired by the Alembic company and was building electric guitars for them and he also built some for himself.
The first one that Jerry Garcia purchased was known as The Eagle. This was the guitar that Jerry found when he came from the music store that where Irwin was employed. This guitar had humbucking pickups. At the time Garcia preferred the sound of his Stratocaster with single coil pickups.
Garcia asked him to build him another guitar. Irwin took a cue from this and created The Wolf
, which he sold to Jerry Garcia in 1972 for $850. Garcia played this guitar for more than 20 years. Garcia asked Irwin to optimize Wolf with three single coil Stratocaster pickups.
As stated, this guitar was made of purple heart wood and curly maple. The fret board was ebony with 24 frets; longer than Fenders, which at the time only had 22 frets. The first version had a peacock inlay made of abalone, but in subsequent years Irwin changed this to an eagle.
A blood-thirsty cartoon sticker of a wolf adorned the body. This gave the guitar its name.
In later years the middle and bridge single coil pickups were swapped out for humbuckers. This was an easy change because Irwin configured the pickups on a metal plate.
In fact it was Irwin who created both plates for the guitar. The pickup selector is the five position strat type.
The Wolf guitar
features a master volume control and a tone control for the middle and front pickups. Two mini switches on the guitar are pickup coil switches, to choose between humbucking and single coil. There are two ¼" phone jacks. One goes to the amp and the other goes to Jerry's effects loop.
There is also a mini switch to toggle the effects loop on or off. The electronics are accessible from a plate on the guitars back side and they are shielded. The tuning machines are Schaller's and made of chromed nickel as is the bridge.
Wolf was the first guitar Irwin built that had the D shaped headstock that he used on other guitars he made as his trademark.
On the headstock was the inlay of a peacock done in mother-of-pearl. While at a concert the guitar fell about 15 feet off of the stage and this caused a small crack in the head stock.
Doug Irwin took this as an opportunity to replace the head stock with ebony veneer and a mother-of-pearl inlay of an eagle, which by now had become Doug Irwin's signature.
J
erry Garcia
used the three single coil pickup plate up until 1978 when he had the single coil neck pickup and twin Dimarzio Dual Sound humbuckers for the middle and bridge position.
Click on the links below the pictures for their sources. Click on the links in the text for further information.
©UniqueGuitar Publications (text only)
Greg Allman passed away today due to complications from liver cancer. As a member of The Allman Brothers band, he was mainly know for playing the Hammond organ, but even when his brother Duane was alive.
Greg occasionally took up a guitar for a few songs.
Perhaps the most notable of these was called Melissa
. This song was originally performed on an acoustic guitar that belonged to Duane that was tuned to open E.
Greg and his Duane started life in Nashville Tennessee, but grew up in Florida.
Their first real band was called
The Escorts.
The band was good enough to be the opening act for a Beach Boys concert.
The Escorts became
The Allman Joys
, which mainly played cover songs. During this time Greg purchased a Vox Continental organ.
In order keep the band together and avoid being drafted into the armed services, Greg Allman shot himself in the foot. In 1967 they were renamed
Hour Glass.
In 1969 the group was finally named The Allman Brother's Band.
Tragically
Duane Allman
was killed in a motorcycle accident in 1971. Following this, the bands bass player Berry Oakley also died in a motorcycle accident.
Greg and the remaining members carried on and in 1973 had a hit record called
Brothers and Sisters
. The Allman Brother's Band broke up in 1975.
Greg Allman went on to form the Greg Allman Band.
He also married Cher and remained with her for a decade.
Allman recorded several albums and had a hit single called I'm No Angel. The Allman Brother's Band regrouped in the early 1980's. In 1989 The Allman Brothers Band got back together and continued to perform through 2014.
Greg Allman released a solo album called
Low Country Blues in 201
1, and his final album, Southern Blood, will be released this year.
Allman is a Rock and Roll Hall of Fame inductee
and is on Rolling Stone Magazine's 100 Greatest Singers of All Time.
In 2012 Greg Allman published his autobiography called
My Cross To Bear.
Though Greg was mainly known as the singer and organist for the Allman Brothers Band, he did step up front and play guitar. Much is written about Duane's guitars and equipment, but not so much is written concerning Greg's guitars.
One of the earliest photo of Greg Allman playing a guitar is from 1975.
In it he has a black Les Paul Custom.
The Allman Brother's Laid Back album came out around 1973 and it had a song called Queen of Hearts. From about that same time he is shown here with a Gibson SG, that may have
belonged to Duane.
Here is a 1974 picture of Greg playing a different
Gibson SG.
Butch Trucks was the drummer for the Allman Brothers Band. His son is Derek Trucks. I'm sure Duane and Greg's fondness for SG's must have influenced him.
Here is another picture of a young Greg Allman playing a
Veleno guitar.
Those guitars were made of metal and had a mirrored finish.
Here is another photo of him tuning the Veleno up. Note the unusual headstock and metal neck.
Allman is seen here with a black
Fender Stratocaster.
It is possibly a late 1960's model.
Here he is seen singing with Cher
and playing an Ovation acoustic. In the mid to late 1970's Ovation's were the go-to stage guitars, since the piezo pickups were the best.
Here Greg is seen singing Melissa and playing a
Gibson SST 12 string.
He can be seen from this video playing a
Martin D-35
. Click on the link under the picture and you will see that Greg Allman was an excellent Blues guitar player.
This clip from a TV show show Allman playing Come and Go Blues on a Guild D-40.
Greg Allman had an endorsement deal with Washburn guitars
. Here are the two models the company produced. The black guitar has "Melissa" inlaid in mother-of-pearl on the fretboard.
In recent years
Greg Allman used a Gibson J-200
at his concerts.
Greg Allman struggled for years with addiction to alcohol, heroin and other drugs. He spent many years in rehab and became sober. In 2007 it was discovered he had hepatitus C. He underwent a liver transplant in 2010.
He died at his home in Savannah Georgia surrounded by his family and friends.
Please click on the links below the pictures for the sources. Click on the links in the text for further information.
©UniqueGuitar Publications 2017 (text only)
A bass guitar owned and played by Motown legend James Jamerson will be up for auction later this month. This is the instrument was not the original that Jamerson played during his years with Motown's Funk Brothers, as the label's go-to session bass player. It is apparently a second bass that he owned. It is a 1961 Fender Precision Bass.
Jamerson's first electric bass was a 1957 Precision Bass, refinished in black, with a gold-anodized pickguard and maple fretboard, which he nicknamed "Black Beauty". That bass was a gift from his fellow bass player Horace "Chili" Ruth. It was eventually stolen.
His most famous bass guitar was the
1962 Fender Precision Bass
which was he dubbed
"The Funk Machine."
This Fender bass had a three-tone sunburst finish, a tortoiseshell pickguard, rosewood fretboard and chrome pickup and bridge covers. The bridge cover contained a piece of foam used to dampen sustain and some overtones, which was standard to the models of that era.
Jamerson had carved the word
"Funk" on the the heel of the instrument.
He typically set its volume and tone knobs on full. Sadly this bass was also stolen sometime in 1983 at a time when he was in the hospital and dying.
Jamerson had lent his second 1961 bass to his aforementioned friend, Horace "Chili" Ruth sometime in 1967 or 1968 at a time when Ruth needed a bass. Jamerson never asked him to return it, so it has been in his procession ever since.
Jamerson left Detroit and moved to Los Angeles when Motown Records
moved their headquarters to California. Apparently the bass was forgotten by Jamerson.
This bass is being offered by
Heritage Auctions,
with bidding starting on May 29th. The official dates are June 17th and 18th. There is a $12,000 premium. Click the link to register.
The bass is completely original. Only one of the La Bella strings has been replaced.
Jamerson is one of the best known and most influential electric bass players of all time. He was inducted posthumously into
the Rock and Roll Hall of Fame in 2000
. His playing can be heard on at least 30 Number 1 hit recordings and more than 70 R&B hit recordings.
Jamerson started his career by playing in Detroit clubs and later found session work with the Motown Record Company. He began by playing string bass, but switched to electric bass during the 1960's.
As mentioned before, James Jamerson was part of a core group of Motown Session player that came to be known as The Funk Brothers. In addition to session work, he sometimes toured with the artists. Though the musicians did not receive credit on the singles or albums for their work until sometime in the 1970's,
Jamerson's playing can be found on such hits as
Just Like Romeo and Juliet
,
You Can't Hurry Love,
My Girl
,
Shotgun
,
For Once In My Life
,
I Was Made To Love Her.
That is him playing the bass lines on
Going to a Go-Go
,
Dancing In The Street,
I Heard It Through The Grapevine
,
What's Going On
,
Reach Out, I'll Be There
, and
Bernadette
. When Motown ended in 1973, Jamerson performed on such songs as
Neither One Of Us
,
Boogie Down
,
Boogie Fever,
You Don't Have To Be A Star
, and
Heaven Must Have Sent You.
James Jamerson played on albums by Robert Palmer, Dennis Cofey, Al Wilson, Smokey Robinson, Ben E. King and many others. When bass styles changed, Jamerson, who was a pioneer, found himself out of work. His 1983 death was attributed to liver failure, resultant from alcoholism.
On his Fender Precision bass,
Jamerson favored
La Bella heavy-guage flatwound strings
(.052 - .110). He never replaced these strings unless they broke. He did not take particularly good care of his instruments. In fact he once said, "The gunk keeps the funk." He believed this improved the quality of the tone.
It was suggested to Jamerson that he switch to brighter sounding roundwound strings, but he declined.
In an interesting 2015 article from the Talkbass forum titled,
James Jamerson's Funk Machine - Wrong Year
, the editor of Bass Magazine and a reader discuss the fact that the famous Funk Machine may not be a 1962 Fender Precision bass, but rather a model created between 1964 and 1967, based on the transition logo decal, created in 1964, and the pearloid dot fret markers.
Another indicator that it may be a bass made later than 1962 is the foam mute pad under the bridge cover. These were not introduced until 1963. Prior to that the mutes were made of felt.
When playing upright bass
, he used his index finger to pluck the strings. On electric and acoustic bass, he favoured utilizing open strings. This technique helped give his playing a fluid feel. He subsequently got the nickname; The Hook.
On studio recordings James Jamerson plugged directly into the mixing console. He adjusted the console so his sound was slightly overdriven. The tubes in the mixer gave him a little compression.
When he played in clubs he used an
Ampeg B-15
amplifier with an older
Kustom speaker cabinet
loaded with twin 15" speakers and covered in blue Naugahyde. He always played with the volume control turned up fully and the treble control turned only half way up.
One of the most unusual guitars that I ever played was also one of the best guitars I've ever played. This was an original B.C. Rich Seagull built back in the mid 1970's when Bernie Rico and his staff were making them in his Los Angeles shop. That guitar was expensive, but it played and sounded like a dream.
Bernardo Chavez Rico aka Bernie learned about guitars from his father. Bernardo, or Bernie, was an accomplished Flamenco guitarist.
His father, Bernardo Mason Rico had purchased the store from Candelas Brothers guitar shop.
The Candelas Guitar store
is a legend all to itself. The store was re-christened Bernardo's Guitar Shop.
Although Bernardo Senior was not a luthier, he was a business man. And he hired luthiers and craftsmen to do the work. It was from these men that Bernie learned his craft. The shop offered Flamenco and Classical guitars along with other stringed instruments.
Many of their original guitars were made of bodies imported from Mexico which the workers sanded, finished, stained, and painted before offering them for sale. As the years rolled on, The Folk Music Craze of the early 1960's changed the focus of the shop from nylon string instruments to
steel string acoustic guitars.
These were handmade using choice materials such as Brazilian rosewood, Sitka spruce, Honduran mahogany, and ebony.
Around 1968 Bernie made his first electric solid body guitar and topped it with a Fender neck.
This guitar and subsequent attempts had
Les Paul shaped bodies.
He also made bass guitars with a design based on the Gibson EB-3.
Within four years Rico and a fellow employee named Bob Hall came up with
the original Seagull design.
By 1974 this became their first offering. Another employee named Mal Stich, inadvertently answered the phone one day by saying, "B.C. Rich", instead of
"Bernardo's Guitar Shop".
The name stuck. Bernie Rich's goal was to make a production line guitar with custom shop quality.
By 1977 the retail price was just under $1000 USD. But they were scarce.
The music store I frequented back in those days had 2 B.C. Rich guitars;
the Seagull and the Mockingbird
. Both guitars were excellent.
Oddly enough the Seagull
was based on a wooden toilet seat.
The body and neck were made of mahogany with neck-thru construction. The body had an exaggerated cutaway that ended in a sharp point. On the top side of the body between the upper and lower bouts was a sharp point. Rich used a
Badass bridge/saddle unit.
The guitar had twin humbucking pickups and the electronics were designed by Neal Moser. These included an
active preamp, a Varitone control, a phase switch, coil taps, and master volume and tone controls.
At first the pickups were made by Gibson
. This is because B.C. Rich guitars were originally distributed by L.D. Heater, which was a subsidiary of Gibson. This allowed them to obtain Gibson parts. However due the fact that Rich was utilizing coil taps and phase reversal on each model each Gibson pickup needed to be dissembled to be reconfigured to use four wires then put back together.
Eventually Gibson realized their pickups were being used by a competitor and put a halt to the practice.
Later models used Guild pickups
, until Rich contacted Larry DiMarzio and asked if his company could produce a four wire model. From that point on B.C. Rich guitars and basses used DiMarzio pickups.
The next instrument was
the Eagle,
which also had the neck-through-body construction and was made entirely of mahogany.. Early models included the three-on-a-side headstock, an unbound neck with rosewood fret board and inlaid position markers. The Eagle included an onboard preamp with a separate volume control and all the bells and whistles that were to be found on the Seagull. The body was more Strat-like with a double cutaway. Later models were stripped down, with a single humbucking pickup, a six-in-line headstock, and a vibrato unit.
On some instruments the body was painted with a custom colours
. By this time, electric players were simplifying the guitars and relying more on pedal boards. Although the newer Eagle had the same shape, the only built-in effect was the on-board preamp, a switch to activate it, and a separate volume control.
The BC Rich Mockingbird
was based on a shape by a guy named Johnny "Go-Go" Kessel and named by Neal Moser. The double-cutaway shape is like nothing else out there. The guitar was popularized by Joe Perry of Aerosmith. The original models were, once again, neck-through-body, and made of mahogany. The original models were gorgeous and featured twin humbucking pickups with coil tapping capability, and a built-in preamp. The six-on-a-side headstock topped the unbound neck, which had a rosewood fret board with mother of pearl inlays.
The Rich Bich
, was another guitar based on a drawing by Johnny "Go-Go" Kessel and designed by Neal Moser. This guitar was originally offered in 1978 and like the Mockingbird, it was a truly original design. The upper bout featured twin offset pointy cutaways on the instruments neck-through-body. What set the guitar apart was the large V-shaped wedge cut out of the lower section of the guitars bottom nearest the player, The remaining section after this house the larger control section which had a small ovular cutout..
Once again the guitar housed an active pre-amp and all the features found on the previously mentioned guitars. Like most of the vintage B.C. Rich guitars, this featured the three-on-a-side tuners, a rosewood neck with mother-of-pearl inlay, a Leo Quan Bad Ass bridge.
The reason for the large V shaped cutaway was due to the fact that this
guitar was offered as a 10-string model
. The wedge was designed to hold four Grover tuning pegs so that
the upper four strings had double courses.
These four strings had their end pieces strung into 4 metal grommets in the center of the headstock that were then attached to the pegs on the bottom of the guitar.
This upside-down concept was copied in later years by Steinberger (although his design was much different) and other manufacturers.
The B.C. Rich Ironbird
was designed by Joey Rico in 1983. It was in-my-opinion, a heavy metal version of the B.C. Rich Mockingbird. This instrument had a small cutaway on the upper bout and an exagerated, and pointy cutaway on the lower bout. The bottom of the guitar had two offset and pointy terminal points. The headstock was made rosewood.
This guitar was popular endorsed by Trey Azagthoth of Morbid Angel.
His personal instrument included a Dimarzio X2N in the bridge position, which was the company's highest output pickup and a Dimarzio twin blade minihumbucker in the neck position. The strings attached to a Floyd Rose tremolo. The original Ironbird had a reverse headstock. The guitar was available with a variety of pickup configurations.
The B.C. Rich Acrylic guitar
was based on the Ampeg
Dan Armstrong Lucite guitar
concept. B.C. Rich took a number of their models, including the Mockingbird and the Warlock and used acrylic material for the bodies instead of wood. While the Dan Armstrong model only came in a clear transparent model,
the B.C. Rich transparent models had different colours for their guitars
. These guitars were manufactured in Korea and did not have all the features of the earlier B.C. Rich models.
An interesting feature of the Acrylic guitars is the neck joint.
This was called IT (invisibolt technology) which allowed the neck to be bolted inside the body, to give it the appearance of a neck-through, however the neck was actually a bolt-on type.
The B.C. Rich Warlock
was designed by Bernie Rico in 1981 and based on the Bich. The original model came with a mahogany body and neck, which was topped with a three-on-a-side headstock.
Some models did have a six-on-a-side reverse headstock. This was later changed to a unique headstock design. The neck was bound on the rosewood fretboard and topped with mother-of-pearl inlays. Some models came with a Floyd Rose Trem system. All came with twin Dimarzio humbuckers.
The Warlock II
came out the following year.
The BC Rich Wave guitar
was designed by Martin Evans and made for only a brief period of time. It was reminiscent of the Mockingbird, but with exaggerated features such as a small wave-like cutaway on the instruments bottom.
The unique B.C, Rich Stealth guitar was designed by Rick Derringer. It featured twin Dimarzio pickups, a reverse headstock and the usual features found on earlier models.
Subsequent production Stealth guitars
deleted most of these features and came with only a bridge humbucking pickup.
The B.C. Rich Widow bass
was designed by Blackie Warless. It resembled an insect with its twin symmetrical upper and lower horns. The bottom section of the body needed an additional block section to hold the bridge saddle unit.
Some significant events for the company occurred in 1984.
The Korean connection led to the introduction of
the U.S. Series
. These were essentially Korean manufactured guitar kits, with bolt-on necks, that were shipped to California for assembly.
This was the year that
the Condor
was also introduced. This was a lovely guitar with a flamed maple top on a mahogany body. It was made in Japan.
The bizarre Fat Bob guitar
and bass were introduced this same year. This guitar may have been a product of Bernie Rico's love of motorcycles and motorcycle embellishments, as it resembled the flamed design decals found on hot-rodded motorcycles.
This guitar had an odd triangular shape, with a single Dimarzio pickup, a six-on-a-side headstock, and a Floyd-Rose tremolo.
It was in 1984 that Mel Stich left the company. The following year Neal Moser left.
In 1987 Bernie Rich entered into an agreement with Randy Watuch's company called Class Axe. This allowed Class Axe to market and distribute some of Rich's guitar lines, thus leading to some foreign made models.
By 1989 Rich had turned over all of the licensing rights.
That year B.C. Rich guitars moved from California to New Jersey. The guys that were working at the L.A. shop continued to make handmade guitars under the logo LPC Guitars. This venture failed.
Though the majority of Class Axe made B.C. Rich guitars were outsourced, the company did produce The Virgin, which was handmade. Dealers and customers were begging for handmade products.
In 1993 Bernie Rico returned to making handmade guitars when the licensing agreement ran out.
Ed Roman of Roman Guitars
of Las Vegas purchased the left over stock from Class Axe.
He relocated the shop to Hesperia California.
By 1995 Bernie returned to making acoustic guitars
, including the B-41C.
In 1995
the Ignitor
and the V were added to the line up.
In 1998 the Exclusive, the
Victor Smith Commemorative Model
, and the Beast were added.
The following year, B.C, Rich added a
seven string version of the Warlock.
On December 3rd of 1999,
Bernie Rico
died of a heart attack.
The company was taken over to his son Bernie Jr. Under his direction control of the company, B.C. Rich, was sold given to the
Hanser Music Group
in 2001. They began making guitars under the Rico Jr. name.
Bernie Rico Jr is still involved with some current B.C. Rich custom-shop guitars. In 2014, JAM Industries of Quebec Canada took over Hanser Incorporated, aka Davitt and Hanser.
Asian manufactured B.C. Rich guitars are still being distributed by Davitt and Hanser, as a subsidiary of
JAM Industries.
I've been reading Guitar Player magazine since the mid mid-1970's. I can recall that at some point later in that decade, a British guitarist named Allan Holdsworth wrote a monthly column with tips on playing guitar.
Holdworth passed away on April 15th of this year at age 70 of a heart attack.
Though Allan Holdsworth played a number of different styles of music, he will always be best known as the foremost jazz fusion guitarist.
Frank Zappa once hailed him as "one of the most interesting guitar players on the planet", while Robben Ford compared his guitar work to that of saxaphonist John Coltrane.
Indeed
Holdsworth's style
utilized complex chordal progressions and intense solos reminiscent of horn or saxophone lines.
Back in 1969 Allan Holdsworth put together a group called
Igginbottom that recorded an album
. By 1971 Holdsworth had moved on to an improvisational band called Sunship. In subsequent years he recorded with a number of different obscure bands. In 1973 Holdsworth recorded a live album for a BBC radio concert as part of a group called Tempest. Amazingly this album sat dormant for years until it was finally released in 2005.
Holdsworth went on to work with the well-known group
Soft Machine
and later with
The New Tony Williams Lifetime band
. By 1979 Holdsworth was tired of being the guitarist in the band and went on to pursue a solo career.
It was in the early 1980's when Holdsworth relocated to Southern California. Here he set up his own recording studio in San Diego and named it
The Brewery.
By 1990 he was once again performing and partnered with well known fusion guitarist Frank Gambale
. The duo recorded one LP.
Allan Holdworth had a distinctive knowledge of music, voicings, and chord structure. His use of finger-picked chords and of effects such as delay, chorus, and reverb make his music stand out. One would suspect that he had an education in guitar, music performance, and music theory, but Holdsworth was entirely self taught.
Through the years Allan Holdsworth was in demand by many different guitar manufacturers to demo and represent their instruments.
Early in his career his main instrument was
a Gibson SG.
Later in that decade he switched to
a customized Fender Stratocaster
that used humbuckers instead of single coil pickups.
By 1984 Ibanez recruited him to work in conjunction with them to develop two sem-hollow body guitars that were known as
the AH-10
and the AH-20.
Three years later he was associated with Ned Steinberger's well known instrument. In fact Holdworth assisted Steinberger in developing
the GL2TA-AH headless model.
Following this he began playing
headless guitars made by luthier Bill Delap.
More recently
Allan Holdswoth struck up a deal with Carvin guitars
to use their model H2 exclusively. Several other Carvin models sprung from the orginal headless Holdworth model. These included an extended range baritone model, the semi-hollow H2 and H1. By 1999 Carvin came out with the "HF2 Fatboy, which Holdsworth endorsed.
One of the instruments that Allan Holdsworth is most famous for is the SynAxe
. This instrument sort of resembles a guitar, but is actually a midi-controller. Holdworth eventually stopped using this instrument in concert, due to its need for frequent repairs.
Aside from being an incredible and gifted guitarist, Allan Holdsworth was an afficianado of beer and cycling. His favourite beer was New English cask ale. He even took his fondness for the clear amber drink to the next step by inventing a product called The Fizzbuster; designed to put a better head on a glass of beer.
Holdsworth was a father and a grandfather. He is survived by his two daughters, son, and grandson.
His fans were in shock from his passing and put together a
Go-Fund-Me page
which paid for his funeral expenses.
J. Gelis was the leader of what was perhaps the preeminent band to come out of the Boston rock scene in the 1970's.
His group started up In Worcester, Massachusetts in 1967 and by 1970 the band had released their first album. By the 1980's The J. Geils Band had a string of chart topping hits, including
Centerfold
, Love Stinks, Come Back, and
Freeze-Frame.
While Peter Wolf stood out as the lead singer and front man, J.Geils was the guitarist and the name behind the band. .
The bands final album,
Your Gettin' Even, While I'm Gettin' Odd,
was released in 1984. The following year the band officially split.
The group reunited for a reunion show in 1999. However in 2012 Geils filed a lawsuit against the band for conspiring to go on tour without him and unlawfully using the band's trademarked name.
After leaving the band Jay Geils remained a busy musician in the Boston area. In the mid 1990's he put together
a band called Bluestime
along with The J. Geils Band harmonica player, "Magic" Dick Salwitz.
By the next decade he remained active as a Jazz guitarist and recorded three solo albums. J. Geils was part of the
New Guitar Summit
along with Duke Robillard and Gerry Beaudoin.
As a young man, Geils attended the Worcester Polytechnic Institute and studied mechanical engineering. He parlayed that knowledge into restoring, collecting, driving, and racing sports cars.
Geils even started
the KTR European Motorports Shop
in a garage in Carlisle, Massachusetts which serviced vintage Italian sports cars; especially Ferraris and Maseratis . He eventually sold the business in 1996. But he remained active in the vintage car community, attending shows and displaying some of his personal automobiles.
John Warren Geils was born February 20th, 1946.
He was found dead in his home
on April 11th of this year when police responded to a well-being call. He died of natural causes at the age of 71.
Aside from collecting automobiles, Jay had a wonderful collection of vintage guitars and amplifiers.
During the years with The J. Geils Band he could be seen playing a Les Paul, a Fender Stratocater, or even a Gibson Flying Vee.
In later years he performed with a Gibson ES-335, or some of his
hollow body archtop jazz guitars
.
His taste in archtop guitars was influenced by his love and admiration for the guitarists that he believed changed the way we played guitar;
Charlie Christian
,
T-Bone Walker
, and
B.B. King.
He sought out the instruments similar to the ones that they played.
For Charlie Christian this included purchasing a
Gibson ES-150
with the single coil pickup unit that came to be known as "The Charlie Christian" pickup.
He owned this guitar as well as a
Gibson ES-250
with a Charlie Christian pickup, just like the guitar Christian used later in his career. In the picture you can also see an ES-150 tenor guitar. These are paired with Gibson EH-150 and EH-185 amplifiers. He parted with the Gibson ES-250.
Part of the Geils' collection includes a Gibson L-5 that was previously owned by jazz guitarist Howard Alden.
Geils owned a few Stromberg instruments
that were made in his beloved city of Boston. One of these came with a Charlie Christian pickup, although the pickup was not original to the guitar.
In fact Geil's collection of archtop guitars represented each of the major builders of archtop guitars.
These included a
Gretsch Synchromatic
, an Epiphone Emperor, a D'Angelico New Yorker, a
Gibson Super 400
, and the Stromberg archtops.
Geils also collected amplifiers. He states that he wanted to get the sound similar to what his guitar triumvirate of Christian, Walker, and King used to get "their sound".
Jay even owned an early 1950's Fender TV panel Deluxe amp
that was decorated with the same wording as the one that B. B. King had used as a young man.
Jay got his love of Jazz music from his father, who encouraged him and exposed him to well known Jazz acts by taking him concerts when Jay was a child. As a boy Geils played trumpet up until he was almost out of high school. At this point he took up the guitar.
In 1967 Geils had purchased a
1960's Gibson ES-345
after seeing B.B. King in concert playing an ES-335 through a Fender Super Reverb.
Geils with 1956 Les Paul
Upon hearing Eric Clapton playing with Mike Bloomfield, Geil set his sights on acquiring a Gibson Les Paul. He found a 1956 Les Paul Custom at a New York city music store. This guitar had an alnico and a P-90 pickup. Shortly after purchasing this guitar the J. Geils Blues Band was formed and the group started out by playing local gigs.
It was at one of these events he ran into a kid that wanted to sell his
1959 Les Paul Standard.
The guitar needed a standard tailpiece, and someone had tried to varnish it with a brush. Despite its appearance, Geils spotted a treasure and offered to swap his '56 Les Paul Custom for that guitar. He took the guitar to a tech that scraped away the varnish, found the requisite parts, and took the covers off of the PAF pickups. He played this guitar on most of the J. Geils Band Records.
During that era he also purchased a Fender Telecaster and Stratocaster and a Martin D-28 for use in the studio.
He also found a 1958 Gibson Flying V and got it by trading a Gibson ES-350 and a National Steel guitar. He took the Flying V on the road to play in concerts.
During his band years he purchased a 1958 Gibson Cherry Les Paul and put it to use. Geils later sold this guitar for three times what he originally paid for the guitar. The 1959 Les Paul is still part of the Geils' collection.
As for amplifiers, his first amp was an Ampeg Gemini II.
During the early J. Geils Band recordings, he played through a tweed Gibson GA-40.
Fender Bandmaster Reverb
On the road he played through a pair on Fender Bandmaster Reverb amps, each with a cabinet housing two Electro-Voice SRO's.
During the final days of the band he was using a 100 watt Music Man amplifier.
As stated before, after leaving the J. Geils Band,
Jay immersed himself in restoring classic Italian sports cars
opening his own shop; the KTR European Motorsports Shop.
Eventually he came back to the guitar, but this time as a Jazz player.
He ran into guitarist Gerry Beaudoin, a notable jazz player, who invited him to join him on one of his regular gigs. This lead to his career as a Jazz guitarist.
He utilized several of the guitars in his collection at his jazz gigs, including the
Howard Alden L-5
and his Gibson ES-250. He usually played through different Fender combo amplifiers.
Geils lead a most interesting life and his career revolved around the things he loved. He was a dear friend to one of my childhood friends,
Tennie Komar
. Jay certainly left his mark on the world. Though his first love was playing Jazz guitar, he will always be remembered by most for his work in the J. Geils Band.
Around 1977 Keller Music, the local store in my town began to offer a new guitar brand called the Electra MPC. Tim Keller, the owner, had built up a respectable business. The guitar's distributor was more than happy to send a demonstrator to perform one night.
I could not believe how many Les Paul owners and owners of other respectable instruments traded these guitars in for an Electra MPC Les Paul style guitar.
Each guitar held two effects modules and a nine volt battery in a body compartment. Instead of a toggle switch found on the upper bout of a Les Paul, there was a rotary switch to control which combinations of pickups/effects were turned on. There were twin toggle switches on the guitars body to turn on or off the modules.
The four potentiometers were lined up in a row. The upper knobs controlled volume/tone and the lower two controlled the effects level and attack.
These unusual Electra guitars were imported from Japan by the Saint Louis Music aka SLM from 1971 to 1984. The Electra guitars with MPC models were made by
Matsumoku of Matsumoku
, Japan. We have already discussed this company in detail if you would like to refer to an earlier post.
Matsumoku has made many popular guitar brands over the years including; Aria, Westbury, Westone, Epiphone, Vantage & Vox to name but a few.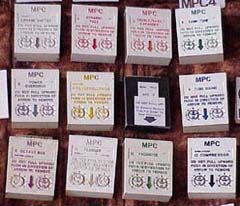 In 1975 Tom Presley was hired by St. Louis Music as the Product Manager and part of the marketing team to begin MPC project. Electronics engineeer John Karpowitz was hired to design and build the Modular Powered Circuits knowns as MPC modules.
Finally in 1976 The MPC guitars made their debut.
By 1978 the Outlaw MPC & Outlaw MPC Bass (both named after the band "The Outlaws" who endorsed Electra MPC guitars). Around the same time, the Semi-Acoustic MPC (ES-335 style) was offered for sale and the X910 "Derringer" MPC (Explorer)debuted.
Due to a lawsuit for patent infringement that Gibson initiated, all Electra guitars with Gibson style head stocks were changed this year to what is called the wave or fan shaped head stock.
Also in 1978 the Contoured Ultima MPC Les Paul and the Vulcan MPC (a Les Paul copy with a Tele curve on upper bout)were offered.
The Leslie West MPC (sort of a Les Paul Special) and the MPC Ultima X960 also made it's debut this year.
1981 saw ties with Matsumoku further solidified and decision was made to merge SLM Electra brand with Matsumoku's Westone brand. In the early 80's, some production is moved to Korea. This is mentioned in the Matsumoku post.
By the fall of 1983, the Electra brand changes it's name to Electra-Phoenix. In 1984 the company became Electra-Westone and by the end of 1984 it is just Westone as St Louis Music abandoned the Electra MPC line due to lack of marketing success.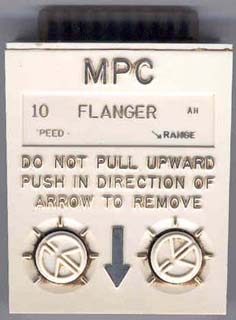 The Electra MPC's forte was it's on-board effects or module powered circuits. There was no need for a stomp box. This was before the era of affordable digital effects and pedal boards. If you needed to use an effect, all that was necessary was to flip a switch on the front of the guitar, and turn a knob (also on the front of the guitar) to adjust the intensity of the effect.
These twelve Module Powered Circuits that gave the guitars their name. These modules plugged into a compartment in the rear of the guitar and were controlled by two potentiometers on the guitar front surface.
The guitar could hold two modules at a time and could be switched or combined with a toggle switch on the guitar
There were major musicians that endorsed the MPC line; Peter Frampton, Leslie West,ELO, Allen "Free Bird" Collins, Chris Squire, The Outlaws and
Rick Derringer.
Some artists had their own model, such as Derringer with the X910 known as the "Derringer" model Electra MPC.
Despite these endorsements, the Electra line still disappeared while the SLM went on to produce Westone & Crate products. As of now, Westone is just a memory, but Crate products are still in production.
Today, SLM distributes Crate, Ampeg, Alvarez & Austin products. Though they have simplified there product line, St. Louis Music continues to distribute musical instruments, music books and sheet music.
Early on some people thought the Electra MPC line were of inferior quality and poorly manufactured gimmick guitars.
As we lurch forward in search of vintage instruments they are finally starting to be recognized for their playability and superior build when compared to some Asian instruments that are considered to be vintage.
Electra offered the following options for their modules:
Phase Shifter
– self explanatory
Dymanic Fuzz
– pick harder = more distortion
Trebel /Bass boost
– self explanatory
Tank Tone
– provides a hollow percussive mid range sound. Sort of a Wah stuck in one position. The Vox Crybaby was designed on an EQ filter known as a Tank Circuit.
Overdrive
– Self explanatory
Filter Follower
– Envelope filter
Auto Wah
– self explanatory
Tube Sound
– provides a clean tube like sound
Octave Box
– Provides Octave below
Flanger
– self explanatory
Frog Nose
– built in headphone amplifier (a reference to Pig Nose amplifiers)
Compresor
– self explanatory.
However during the MPC years all guitar models were manufactured by the Matsumoku Company. Therefore the quality of
Electra guitars
were superior to other Asian made instruments. But in this era of
Buy American
, most all Asian manufactured guitars were considered to be inferior. This stigma still exists.
Electra produced a total of 18 different MPC guitar models.
Of these the most popular was the was a Les Paul copy known as The Super Rock.
They also made at least one bass model.
©UniqueGuitar Publications
So it is that time of year again for our annual shootout. This year we will be judging the top five Diddley Bows in the electric Diddley Bow category.
1.This is a stunning example with a flamed pine body, and a raised pickup section. The bridge saddle is an empty beer bottle.
This is topped off with a genuine Condor pickup and one lone Grover tuner at the headstock.
2.The competition increases with this stunner from Lalloguitars. This instrument has a gorgeous mahogany body with a hand rubbed tru-oil finish. It is topped with a rosewood fretboard. On board is one special design Italian handcrafted MAMA pickup.
The string is secured at one end with a Kluson MG33N Grover button. (Wait a minute. Is it a Kluson or a Grover?) and at the other end it has through-the-body stringing. The nut is genuine bone. At the opposite end the flask saddle is secured between two maple strips.
This baby has built in tone and volume controls.
3.Our next model comes courtesy of an Irish company called DaShtick.. This is their three string Celtic model made from a hurley stick. This handmade instrument utilizes ash, ebony, and mahogany. The bridge and saddle are genuine bone. The saddle rests upon a guard of leather, that come with a single volume control for the built-in piezo pickup. A Fender stratocaster jack is at the end of the hand polished body.
Three open Grover style tuners with pearl buttons adorn the offset headstock. It even comes with a leather strap.
4.C.B Gritty Crafter Supply brings us our forth nominee.
This do-it-yourself model includes all the parts you need including a Montesino cigar box body with a sound port, imported from the Dominican Republic.
The wooden dowl is topped with 17 Home Depot supplied staples that are useful as frets. The string attaches to a single un-named tuning peg at one end of the dowl and attaches at the other.
A piezo pickup is built into the body to give this bad boy it's bang-your-head-against-the-wall, funky, get-down-with-your-bad-self, heavy metal, Saint Louie Blues character.
5.Our final entry comes is the Helldorado single coil pickup, single string model. This unusually shaped model is made of finest-kind pine wood with a nice red stain and the instruments logo running down the center of the body. The satin finish sets this instrument apart.
It comes with a single Grover style tuner at one end and a trapeze style guitar tailpiece at the opposite end. The bridge is a cast metal cylinder. The built in controls feature a single volume potentiometer.
The judges have rendered their decision and it was a tough call between the Lalloguitars Didley Bow and the Irish DaShtick model.
The 2017 winner is DaShtick. Who can argue with
a hurley stick!
By the way, did I mention this was April Fools Day?
Enjoy yesterdays Guitar article
and next week we will get back to profiling Unique Guitars.
©UniqueGuitar Publications (text only)
Ever since the origins of the modern guitar in the 18th century, the instrument has been available in various sizes. Antonio d Torres gave the modern classical guitar its form as we know it today. The modern classical guitar has a scale of 648 to 650 mm, which is roughly 26 inches. Full size electric guitars have a slightly shorter scale. Most Fender instruments are 25 1/2" while Gibson has maintained the 24 1/2" scale.
Classic guitar builders have offered guitars that are 1/4 sized, 1/2 sized, 3/4 sized, and full size for players of different ages and differing physiques.
In the 1930's C.F. Martin introduced the Terz guitar. It was based on the size of the Terz or Treble classical guitar. Joseph Stauffer, from whom C.F. Martin senior learned his craft, had built Terz guitars. So it would stand to reason Martin would continue the tradition.
The Martin Terz was a 3/4 scale guitar and offered in different styles. The 5-18 was probably the most popular.
Marty Robbins used his on stage.
This guitar was designed to be tuned three frets above standard pitch.
In 1932 Gibson introduce the
L-00 Flat top
guitar. This was a small bodied instrument, and one of the nicer versions of the L series. By 1937, Gibson offered this model in a 3/4 sized option.
In 1933 Gibson had also introduced the very fancy
LC model in a 3/4 sized version
. In 1942 Gibson offered the LG-2 and by 1949 it was available in a 3/4 size version. This is the guitar that Arlo Guthrie favors.
In 2002 Gibson decided to reintroduce this very model when Arlo Guthrie contacted Gibson's craftsmen to ask for help In reconstructing a guitar that his father Woody had given him as a present. After painstakingly rebuilding the instrument, Gibson decided to offer the same guitar to the public as
the Arlo Guthrie LG-2 3/4.
This list price was $2079, but they are available for much less.
Back in 1945, following the World War II, Harmony guitars of Chicago was back in business and reintroduced
The Stella guitar.
Stella had been a brand offered as far back as 1899 by the Oscar Schmidt Company. When the company went bankrupt in the 1930's, Harmony guitars stepped in a acquired their assets.
The 3/4 sized Stella H929 was in the line up from 1945 through 1970 and was popular as a student model. The guitar was made mainly from birch and used all solid woods. It was ladder braced. Despite being 3/4 sized, it still had a 24 1/2" scale.
Bob Taylor was working for a small guitar manufacturing business in 1972 when he was only 18 years old. Within two years, Bob, and co-workers Kurt Listig, and Steve Schemmer bought the company. They needed a band name to put on the guitars.
Schemmer Guitars and Listig Guitar did not seem to sound as marketable as
Taylor Guitars.
So Taylor Guitar it was. None of the men had studied Martin's guitar making techniques, so their ideas were fresh and had a new approach. By 1983 Taylor and Listig bought out Schemmer's stake in the company.
Back in 1996, at a time when most of us were interesting only in dreadnought sized guitars,
the Baby Taylor
made its debut and starts a new trend in guitar manufacturing.
Taylor Guitars had already come up with an interesting concept in its bolt-on neck, which utilized precision cut spacers and bolts to attach the neck to the guitars body, which
made neck adjustments quick and painless
and this same process was applied to the Baby Taylor.
The instruments heelless neck attaches to the guitars body by means of two screws that are flush with the fretboard and located between the 15th and 16th fret.
The guitars back and sides are made of 3 layers of laminated sapele wood and
the instruments back is slightly arched
. Other guitar companies, such as Guild, Framus, and Gibson, have used this same method of arching the back through heated pressing for strength, so the back requires no internal back bracing.
The guitars top is made of solid Sitka spruce. Black matte veneer covers
the headstock
that bears the decal with the Taylor logo.
The guitar comes with its own gig bag.
The Baby Taylor has a 22 3/4" scale on its diminutive 15 3/4" by 12 1/2" body. The guitar was an instant hit and notice was taken by many other guitar manufacturers. The first year offered the Baby Taylor sold over 1,000 units. Sales of the tiny guitar increased from there.
Martin guitars offered the Backpacker around 1993. Chris Martin IV had visited luthier Robert McNally's booth at the 1993 NAMM convention where the luthier was displaying his
3 string Strumstick
.
The original instrument was based on the mountain lap dulcimer, but was meant to be played like a guitar. A deal was struck up at this show for 5,000 units to be made. The neck was changed to a six string guitar design and it was dubbed
The Backpacker.
Although the guitar did not have the greatest tone or volume, its compact size, and durability made it successful.
The Backpacker was even taken into outer space by one of the astronauts.
The design changed in 2002 when
the instruments body was enlarged
to enhance the tone and make the instrument easier to hold. Martin has also offered this same instrument with
nylon strings,
and a
mandolin,
and ukulele version.
In 2003 Martin took the concept of a small guitar a step further a with the introduction of the Martin LXM.
The LXM or Little Martin
is designed as a modified 0-14 fret tenor Martin shape. The scale is 23' in length. The entire guitar is constructed of high-pressure-laminate or HPL, which is essentially the same process used for making Formica. The neck on the Little Martin is made of Rust birch laminate. The fretboard is constructed of black Micarta, while the nut is made of white Corian. The saddle is made of white Tusq. The tuners are made by Gotoh.
The original version was only offered as an acoustic instrument. Later on
the LXME
came with Fishman transducers and Mini Q electronics. The LXM models all come with a gig bag.
The Martin LX1
is the same style of guitar, but it has a solid Sitka spruce top.
Ed Sheeran began his busking career using a Little Martin
and Martin guitars offers the Ed Sheeran X signature series LX size guitar with built-in Fishman Isys T electronics.
Martin also makes
the LX1e
electric acoustic models, which feature a solid spruce top.
In July of 2013 Taylor Guitars introduced
the GS Mini guitar.
After experimenting with changes to the Baby Taylor, a new design, the Grand Symphony, was decided on. The GS has a different body shape and different bracing.
The top is made of solid Sitka spruce
and the back and sides are sapele laminate. The body is approximately 2" larger than the Baby Taylor. The scale is 23 1/2", and the body is an inch deeper than the Baby Taylor. Once again, it features the arched back design.
The neck on this model, although
a bolt-on featuring Taylor's NT design
, does have a heel. The action is low and feels quite good. The original models were only offered as acoustic guitars, but could be equipped with the optional ES-Go acoustic pickup.
This unit is built exclusively for the GS Mini guitar.
The ES-Go
is stacked humbucking magnetic pickup which clips onto a bracket in the sound hole that is underneath the fretboard section. Once in place, the player swaps out the end pin and replace it with the one attached to the ES-Go unit. It is made to be paired with Taylor's "V" cable, which has a volume control. The unit sells for an additional $100.
Since its inception, Taylor has improved this guitar, by offering it with
optional body woods,
such as a mahogany top or spruce top with laminated walnut back and sides. The electronics have also been updated.
The Taylor GS mini e
is now is available with a built-in Taylor Expression System 2 electronics, which places 3 pickup sensors behind the guitars bridge. Taylor feels this is superior to under the under the saddle method that many designers have used. This also comes with a built-in preamp.
This option adds $100 to the guitars price, but eliminates the need for putting on or removing the ES-Go unit.
Back in 1997, just a year after Bob Taylor introduced the Baby Taylor, Tacoma Guitars of Seattle Washington introduced
The Papoose mini guitar.
Tacoma Guitars was a division of The Tacoma Lumber Company. In 1991 this company was processing hardwood that was milled into piano soundboards exclusively for the Young Chang Piano Company of South Korea.
The lumber company's general manager, J.C. Kim persuaded Young Change to build a guitar manufacturing plant nearby, and the company started turning out some rather unique instruments. Among these was the tiny P1 Papoose guitar that was designed by luthier Terry Atkins and George Gruhn.
The Tacoma P1 Papoose
had a short scale neck with only a 19.1" scale, and it was built to be tuned a fourth higher that normal guitar tuning. In other words, the strings were tuned from A to A.
This guitar introduced the Paisley sound hole, which became a Tacoma trademark, and the Voiced Bracing Support system. This was a system designed to minimize the bracing as much as possible down to what the instrument needs to remain stable.
The heelless neck on the Papoose
was bolted on and secured by two screws. The bridge was uniquely shaped and had 3 unusual C-shaped cut-outs to secure the strings. Some later models came with bridge pins.
The Papoose was available in a variety of sound board woods. Tacoma also came out with
the P112 Papoose 12 string
. Towards the end of the line, Tacoma had introduced and electric version of The Papoose.
Young Chang put the company up for sale in 1999 and it was sold to Fender Musical Instruments Corporation in 2004.
Sadly in 2008 Fender closed the plant and laid off the staff. Though the Papoose is no longer produced, it can still be found on auction sites at a fairly reasonable rate.
Since the Baby Taylor and the Little Martin have proved to be successful, many major guitar manufacturers, too numerous to mention, have developed and offer 3/4 sized mini acoustic guitars in their line up.
Among them Dean Guitars offers
the Dean Flight
that retails for around $150 USD. It is a laminated guitar with a 22" scale. The neck is mahogany, and the headstock is done in the Dean-wing style. It comes with a gig bag.
Fender offers the
MA-1 Parlor 3/4 size guitar.
The top is laminated Agathis and the back and sides are laminated Sapele. As with most of the mini acoustic guitars a gig bag is included.
Yamaha's product is the
JR1 Mini Folk.
Luna Guitars offers a similar 3/4 sized guitar called
the Muse Safari guitar.
Takamine has the GX18CE-NS,
which retails around $400, but it does have a solid spruce top, rosewood fretboard and electronics with a built-in preamp.
One of the more unique mini guitars comes from a company called Klos.
Their instrument has a carbon fiber body.
The neck is made of mahogany and topped with a rosewood fretboard.
Despite being small in size, the scale is 24 3/4". Plus the neck is removable. It comes with a gig bag and sell direct from the manufacturer for around $600 USD.
Chuck Berry passed away on Saturday, March 18th, 2017 at his home in St. Charles County Missouri. He was 90 years old.
For those of us that grew up in the era of the 1960's and who learned to play rock guitar, it was essential to learn Berry's songs and guitar licks. The Beach Boys hit song Surfin USA was set to the music of Chuck Berry's song Sweet Little 16. Even the intro to the Beach Boys song "Fun, Fun, Fun" was cobbled together from the intro to Berry's "Roll Over Beethoven".
In the Beach Boys song "Do You Remember", Brian Wilson wrote
"Chuck Berry's got to be the greatest thing that came along, He wrote the guitar beats and the all time greatest song"
. Chuck Berry essentially defined early Rock and Roll with his 3 chord songs, guitar introductions, and lyrics.
Berry grew up in St. Louis and by high school showed an interest in music and guitar. During those years he got in trouble with the law and spent 3 years in a reformatory. He worked briefly in an automobile assembly plant, before meeting Blues musician T-Bone Walker, who was impressed with Berry's guitar riffs and showmanship. Walker encouraged him to get into the music business.
In 1955 Berry traveled to Chicago and began performing with the
Johnny Johnson Trio
. It was there where he met Blues player Muddy Waters. Waters introduced him to Leonard Chess of Chess Records who signed Chuck Berry to the label.
Chuck's first hit song was
Maybellene
, which was an adaption of an old Country song called
Ida Red.
The recording sold over one million copies and was on Billboard Magazines's Rhythm and Blues chart list. This lead to more hit songs and a lucrative touring career.
Berry had hits in the mid 1960's, No Particular Place to Go, You Can Never Tell, and Nadine never matched the chart toppers of his earlier songs such as Maybellene, Johnny B. Goode, Roll Over Beethoven, and Rock and Roll Music.
In 1986 he was inducted into the Rock And Roll Hall of Fame.
Chuck Berrry was ranked fifth on Rolling Stone Magazine's list of the 100 Greatest Artists of All Time.
However his success became an encumbrance for him. His income was derived from touring and he was playing the same three chord songs night after night. In an interview he stated that his success stripped him of an artistic credibility. He felt as if he were a relic people came to see. Touring became so mundane that he stopped using his own band. When he did a show he played with whatever local band the promoter had hired to back him.
I knew a keyboard player that once backed him up at a state fair show. He said that Berry pulled up in a rented Cadillac convertible with his guitar in the back seat. He walked on stage, plugged into an amp that was already set up, and began playing to the crowd.
When his set was over, he thanked the crowd, walked off stage without saying a word to the band, and drove off.
Berry was not just an excellent singer/songwriter, but a consummate performer and showman. His "duck walk" and facial expression he did while playing guitar became his trademarks. And he was an excellent player. He often borrowed "Hillbilly" guitar licks, inserting them into his songs. Throughout his lifetime Berry had some skirmishes with the law, but eventually came out on top.
When Chuck Berry first started out he is probably best known for playing a 1956 Gibson ES-350TN (thin natural finish) on several TV appearances. In fact he is probably best known for playing Gibson electric guitars.
He also owned and played a 1959 Gretsch 6121 Roundup in appearances.
For a movie called Rock! Rock! Rock!, Berry is seen with a stereo Gretsch White Falcon, however that was possibly a prop guitar provided by the production company.
Berry also played an early to mid 1960's model of a Gibson ES-335. He is seen playing a number of different ES-335's. Possibly some were provided for him so he didn't have to fly with his own instrument.
The most iconic and photographed guitar he played was the Gibson ES-355. You can tell this guitar by the split diamond inlay on the headstock. He played a number of versions of this instrument. Some had Maestro vibratos, some had Bigsbys, and some had no vibrato.
Berry can be seen playing a Gibson ES-330 hollow body electric.
There is but one image of an older Chuck Berry playing a red 1967 Flying Vee.
Berry was also known to use a Gibson B.B. King Lucille model guitar.
And Berry brought this guitar to the 2012 Awards for Literary and Lyrics Excellence.
As for amplifiers, Chuck probably insisted on the venue providing one. He was fond of Fender Dual Showman amps with reverb, and Fender Twin Reverb amplifiers.
In fact a concert rider states the venue should supply: "Two Dual Showman amplifier heads and two Dual Showman speaker cabinets. Any alternative equipment must be in above watts and speaker size."
However he was also photographed playing through a Marshall amplifier, and a large Ampeg amplifier.
He married his wife Themetta in 1948 and the two were still married at the time of his death.
©UniqueGuitar Publications (text only)
The Rogue Aluminator was featured for a few years in the late 1990's in Musician's Friend catalogues. It was truly a unique instrument. The slotted body was made from billets of aircraft grade aluminum.
The body shape of the Aluminator
is reminiscent of a Fender Stratocaster. As mentioned already the guitar's body was made entirely of aluminum.
The 25.5" scale, 22 fret, bolt-on neck was made of maple with a rosewood fretboard with dot markers. The six on a side headstock pointed and painted featuring the Rogue logo.
The perimeter of the Aluminator body is slotted,
thus allowing a decrease in the guitar's weight. The center section of the body contains the pickups controls and wiring harness.
The Aluminator also came with 3 mini-throw switches; one for each pickup.
This allows any combination of pickups to be off or on and gives 11 different sounds.
The end of the body featured a non-trem Strat-style bridge with six adjustable saddles.
Although it did not allow for the Kahler style, dive bomb sounds that were popular with the shredders of the day, the fixed bridge did help with sustain.
It was offered in different MF catalogs from $549 to $699. The catalog I recall was asking $599 for the guitar.
The guitar came in silver, purple, red or black.
Able Axe was a guitar manufacturer started by Jeff Able.
He selling guitars he built out of aluminum between 1994 through 1996. He started up again in 2001.
All the bodies were coloured with anodized aluminum finishes. Most were finished in red, black, blue, violet, gold, teal, and some even multicolor. There rarest would be 3 with a green grass finish and 20 with a clear (aluminum) finish.
There is a Facebook page for Able Axes.
.The retail cost in 1994-96 for an Able Axe was $1395 to $1495. A variety of colours were offered, including plain stainless aluminum.
©UniqueGuitar Publications (text only)
This is mostly about Mike Delaney Guitars, but around 5:53 he talks about the Able Axe
Ken Parker built his first archtop guitar in 1974. This was long before he rose to fame with his well known electric guitar; The Parker Fly.
In regard to the origin of the Parker Fly, Parker, in his own words states,
"Larry Fishman and I met in 1984 and began a playful but productive design partnership.
We shared techniques and technologies, and tried to envision some new tools for guitar players. Long story short, we founded Parker Guitars in 1991 in order to realize the Fly Guitar project. We created tools to build the guitars, and established our factory in Massachusetts, where we produced about 30,000 guitars and basses."
In doing so, Ken created a modern ultra-light guitar, and made use of some unusual materials.
Official sales of the Parker Fly began around 1993.
The Parker Fly
was made from a variety of woods, including poplar, basswood, and spruce. Once the unique shape of the body and neck were carved the instrument was coated with a composite of resin and carbon glass to reinforce the structure.
The fretboard was also made of a composite material and the frets were made of stainless steel. The design process has given Parker Fly guitars the reputation of having the "fastest neck in the business".
Due to their durability, these materials will pretty much last for the lifetime of the owner.
The electronics used in the instruments were very unique as well. The guitar used either coil split humbucking pickups or single coil pickups. Both had active circuitry. The Fly also had a piezo pickup for acoustic sounds.
The structure of the neck was unique since it used multiple finger joints for stability.
The guitars vibrato was unique as well.
Instead of using wound springs, The Fly utilizes a shaped flat steel spring that returns the guitar to pitch. It could be set for bend down down mode, balanced mode (full floating), or fixed mode.
The tension is controlled by a balance wheel.
(The guitars manual cautions not to set it too tight as this could cause the spring to break). The vibrato was engineered in a way to bring the strings back to pitch. Sperzel locking tuners aided in maintaining the instruments pitch and eliminated the need for string trees.
Ken Parker and Larry Fisher set up their business and
manufacturing facility in Wilmington, Massachusetts.
In October 2002, Parker began offering the Fly Bass guitar
in both 4 and 5 string versions. These basses were well received for their ease of use. They came with both magnetic and piezo pickup and the player could blend the two sounds together. The basses were also manufactured in the Massachusetts factory.
In 2003 Ken Parker sold his stake in the company to
the U.S. Music Corporation.
As he states,
"In 2003, U.S. Music purchased Parker Guitars, and moved the production facilities to the greater Chicago area. Since that time, all of the new models produced by Parker Guitars, including any acoustic or semi hollow instruments, have been designed solely by Parker Guitars' design engineers. I have had no involvement with any of these new design projects.
Creating the Parker Fly, Nightfly, and the Fly Bass was a labor of love. I had a lot of fun designing them and then devising and building the production tooling to make them. These instruments have worn well, and now the product line has been expanded by the new owners."
The U.S. Music Corporation is a distributor of multiple products, including Parker guitars. This organization manufactured the guitars from their Illinois based factory. They developed the line and changed up a few things.
U.S. Music took a different approach to Parker Guitars. Some Parker guitars were no longer made with the original composite finish, but were now made of wooden bodies. To be fair, by 2001, Ken Parker had offered some models with wooden bodies.
Also some of the new models appeared to be Parker guitars that had morphed with other popular guitar designs.
For instance,
the Single Cutaway Fly Mojo
may have been a wonderful guitar, but the Les Paul influence is obvious.
This was a single cutaway guitar with twin Seymour Duncan humbucking pickups. The body and neck were made of mahogany and were joined by using Ken Parker's multi-finger neck joint. This guitar featured a tune-o-matic style bridge and a stop tail piece. The neck was topped with an ebony fretboard that had no position markers and the unique Parker 6 on-a-side headstock.
Tuners were still made by Sperzel.
The Fly Mojo Flame
did have the body shape of a Parker Fly guitar. The literature suggests it was made of mahogany with a "unique AAA flame maple skin over a solid mahogany body allowing the sound of mahogany to fully resonate through." I cannot determine if this means the body had a maple veneer or a maple photo-flame finish.
This guitar came with a mahogany neck topped with the Parker headstock and included one Duncan Jazz and one Duncan JB humbucking pickup. Once again the fretboard was ebony with no position markers.
The Fly Mojo Flame also had the Parker Fly vibrato, sans the adjustment wheel. U.S. Music eliminated the vibrato adjustment wheel on all models that they produced.
The Fly Mojo
was similar in all aspects of the previous guitar, but the body was made of natural unstained mahogany.
U.S. Music continued to build The Parker Fly guitar, but changes were made from the original design to correspond with their vision of this instrument.
The body was now made of mahogany with a basswood neck.
The Fly Classic
weighed in at 5 pounds and had the features of the original Fly, except for the choice of body wood and composite finish.
The U.S. Music Parker Fly came with two Seymour Duncan humbucking pickups and included the Parker vibrato. The guitar was available with three colour options.
The Fly Deluxe
was a similar instrument that apparently was voiced differently than the original. It came in different six different colour schemes.
The Parker Nitefly Series
included two guitars with features in the same shape as the original Parker Fly model. However these both had solid mahogany bodies and bolt on mahogany necks.
The NiteFly Mojo Flame
guitar had the same style neck, with a plain ebony fretboard, topped with the Parker style headstock. The thing that stood out on this guitar was the two humbucking pickups that were topped with chrome covers. One pickup was a Seymour Duncan Jazz pickup and the other was a Seymour Duncan JB pickup. This guitar featured the Parker vibrato. The mahogany body came with what the literature called, "a flame with a traditional AAA flame maple top over the solid mahogany body."This guitar was offered in cherry sunburst or transparent blue-burst.
The NiteFly Mojo guitar had the same accouterments however the pickups lacked the chrome covers and there was not a flame veneer topping the mahogany body. It was bare wood and available in a natural finish, a transparent cherry finish, or a dusky black finish.
The Parker Southern NiteFly
was Parker's answer to the Fender Telecaster. The body on this guitar was made of swamp ash and the bolt on neck was maple. The guitar even had black plastic pickguard. The neck pickup was a single coil with a chrome cover that could have been right off of a Tele. The Powerbridge™, looked like the rectangular chrome plate on a Telecaster. It contained a second single coil, slanted pickup and the adjustable bridge saddles contained the Fishman™ piezo elements. There was no vibrato on this model.
What set this apart from a Telecaster was the Parker Fly body, and the Parker headstock. The chrome control plate featured a third knob for the piezo volume. Above it was a second toggle switch to activate the piezo pickup. It was available with blonde, butterscotch, or transparent red finish options.
There were other variants that U.S. Music came up with for their Parker guitars.
The Parker Nite Fly
was one of the models designed by Ken Parker in the late 1990's. The U.S. Music version of this guitar, called
the NiteFly M
, had a solid mahogany body and was topped with two humbucking pickups. The bolt-on neck was also made of mahogany. This instrument was offered with a natural oil and wax finish or a similar finish in black. It had the Parker vibrato.
The Nite Fly Alder
was Parker's version of the Fender Stratocaster. This time the body was, of course, made of alder wood, while the neck was maple topped with an ebony fretboard. The pickup layout was similar to that on a strat, but the bridge pickup was a Seymour Duncan humbucking model. The controls were the same as those on a Stratocaster; a master volume, and two tone controls. It too came with the Parker vibrato. It was offered in cream white, Indigo blue,and cherry red.
The NiteFly SA
was based on the original Parker model. It had the typical Parker shape, but was topped with a white plastic pickguard that contained the electronics, including two single coil pickups and a humbucking pickup in the bridge position. A slider switch acted as a pickup selector. The guitars body was made of swamp ash and the neck was maple. It came complete with the Parker vibrato and was available in transparent red or blue.
The Parker PM Series and P Series
were similar to all of the previous versions, but are noted by the company as having significant upgrades.
U.S. Music Parker guitars included in its line up a series four solid body Parker Fly basses, in addition to their hollow-body PAB 40.
The PB61SP
featured
neck-thru construction
of a spalted maple top and mahogany neck with an ebony fretboard and a spalted maple headstock veneer. The tuners and adjustable bridge/saddle were gold-plated. The body was in the Parker Fly Bass shape. This bass, like all Parker basses, featured twin EMG 35CS active bass pickups.
The PB51TR
(Transparent Red) was very similar, except the body and neck were made of mahogany and it was finished in transparent red. The tuners and adjustable tailpiece were in a black gun metal finish.
The PB41
series offered the same great features, such as EMG pickups, however the body was made of Sitka spruce with a Urethan finish, and the bolt-on the neck was maple. It was available in Silverburst, Black Matte, and Gold Matte. The hardware was also done in a black finish. These basses were available in four or five string models.
In 2006 the company added a line of acoustic-electric and jazz guitars under the Parker brand name. These were manufactured off-shore by Washburn guitars. At that time U.S, Music owned the US distribution rights to the Washburn brand as well.
These acoustic models included the 24 fret
Bronze Fly,
which was a solid body guitar in the shape of the Parker Fly. It had no magnetic pickup, only a Fishman piezo pickup in the Parker style bridge, however there was no vibrato. Ken Parker had offered this guitar when he owned the company under the name
The Fly Concert.
The Nylon Fly
was a similar guitar. This model came with the Fishman piezo placed under a handcrafted ebony bridge. Both models were topped with gold-plated Sperzel locking tuner. During the years Ken owned the company this guitar was called
The Spanish Fly
.
The PJ14N and PJ12 SB were true archtop hollow-body guitars. Both of these guitars had the most unusual body designs as well as unique f-holes.
The body of the
PJ14N
was made of natural spruce and the guitar featured a single Egnater floating Humbucker pickup with pickguard mounted controls and a 5-ply Rock Maple neck with Gold Grover Titan Tuners. The inlaid trapeze tailpiece appears to be made of ebony and the headstock was highly inlaid. This jazz box had only one sound hole. The bound ebony fretboard was inlaid with mother-of-pearl block fret markers. This guitar came with a 3-on-a-side headstock and it was simply awesome!
The PJ12 SB
(sunburst) featured two Egnater Humbucker pickups mounted on the guitars body with individual volume and tone controls, a stunning brass tailpiece, and a 5-ply Rock Maple neck with Gold Grover Titan Tuners. This guitar featured a bound ebony fretboard with block position markers. The 3-on-a-side headstock had a large split-diamond inlay and above it the Parker logo all in mother-of-pearl.
The PJ12
was the same guitar with a natural finish.
Another development in 2006 was the introduction of a line of acoustic-electric guitars under the Parker brand. These models all had ovular sound holes. The guitars were actually made by the Washburn guitar company under the Parker logo and were given the designation of
Parker Event Series guitars
. These included three wide bodied models and five thinner body instruments. All had the same unique Parker body shape as the Jazz series. The line up included three non-electric acoustic models.
The P8E guitar
was designed with a solid cedar top, with a flamed maple back and sides. The unbound fretboard was made of ebony and had small dot inlaid position markers on the boards bass side The electronics were designed by Larry Fishman and included a piezo unit in the bridge and a Fishman magnetic pickup just under the neck. The master volume control is on the guitars top and on the upper side bout are the controls for treble, bass, and pickup balance.
The P9E
was very similar, except for the choice of wood. For this guitar, the top was solid cedar, but the back and sides were made of Indian rosewood The neck was made of mahogany.
The P10E
came with all the features of the P9E, however the neck had an ivoroid fretboard with dark dot position markers. The bridge was made of this same material.
The Parker P6E
models featured a thinner body than the aforementioned instruments. This guitar was available in various styles.
This guitar had a solid Sitka spruce top with single ply binding. The accouterments were similar to th aforementioned mode, with biggest difference being the depth of the body.
The other difference was the necks which were made of 5-ply mahogany and maple. The body on the P6E models were made with mahogany back and sides. Once again the fretboard Is made of ebony with microdot inlays, The electronics were designed by Larry Fisher. These guitars were available in white, black, and transparent red.
The P7EQS
had the same accouterments, but had a fancy quilted sapele top.
The Parker Intrigue Series
, were acoustic guitar, with no electronic features. The unique body shape on these instruments was much different as there is no cutaway section.
The PA28
came with a solid cedar top and solid Indian rosewood back and sides. The neck was 5 ply mahogany/maple topped with gold-plated Grover Stay-Tite open back tuners. These instrument had a zero fret to help with intonation.
Also it 2006 Parker also came out with a unique acoustic bass guitar to match up with their Event Series guitars.
The PAB 40
bass guitar featured the same shape as the Event Series guitars. It included nine feedback suppressing slots routed into the bodies upper bout. The piezo and electronics were the customized Fishman Matrix Bass system and installed on the upper side. The bound body was made of American black walnut and included a thumb rest. The ebony fretboard had only dot inlays at the 12th fret. The 2 on a side headstock was topped with gold-plated tuners. The pin bridge was uniquely designed of ebony wood.
In 2009, the brand was acquired by JAM Industries of Montreal, Quebec, Canada. Production remained in Illinois. JAM is a multi-national distributor of musical instruments, pro audio and lighting and consumer electronic.
This company has acquired many smaller distribution companies and owns the distribution rights to quite a few well know brands including Digitech, Washburn, Marshall, Hagstrom, Randall, Oscar Schmidt, and Korg.
In 2010 the MaxxFly model
was introduced. This model was based on the Fly guitar, but featured a refined headstock which allowed it to be hung on a wall guitar hanger. The top horn was reshaped to be more traditional and ergonomic.
Standardized pickup cavities were set up to aid in manufacturing. The frets were reduced from 24 to 22, and the body became slightly thicker and heavier.
In 2015 the JAM Corporation announced that Parker's US production had ceased and a search for a new off-shore facility was underway.
Parker did create several special edition models after the 2015 announcement including the
Fly Mojo Snakeskin model
, the Koa Fly Mojo model, and the Four Season Fly Mojo guitar, which was offered in differing finishes corresponding to the seasons.
The Parker Fly brand was being manufactured until November of 2016 when the factory in Buffalo Grove, Illinois was shut down. The U.S. Music website states, "The Parker Guitar line-up is currently being updated for re-release in 2017.
So what is Ken Parker doing these days?
He has returned to his first love, which is building archtop guitars.
He started doing this in the 1970's, long before he became preoccupied with the Parker Fly guitar. During these years he was able to strike up a friendship and get advice from Jimmy D'Aquisto.
Ken says on his webpage that he has been busy creating and selling his own archtop guitars. And these are very unique instruments, like no other guitars on the market.
Each guitar is handmade and though they share the same outline, each is a one-of-a-kind piece.
Ken has experimented with different woods that exhibit different tonal variations.
After selling his stake in Parker Fly Guitars in 2003, Ken began experimenting with the archtop guitar neck attachment. He felt that one of the pitfalls of the archtop acoustic was the bridge.
On most models this involves a bridge with a saddle that is adjusted by means of some knurled knobs to raise and lower the action of the strings. He feels the bridge is such an important element in transferring the string vibrations to the guitars body and the standard method needed to be improved upon.
The bridges on his instruments need no adjusting
.
To solve this, Ken has created
a unique adjustable and removable neck.
The neck sets above the guitars body on a post made of carbon fiber.
This allows the player to not only adjust the neck, but to play in upper registers without being impeded by the instruments body or neck heel, as there is no neck heel. Another advantage to the removable neck is that the instrument can be dismantled and placed in travel size containers for safe travel on airlines. Parker can even build an instrument available with a variety of differing necks for the same body, such as a 25.5" scale or a 30" baritone scale, even six or seven string necks that would fit the same body.
Parker's fretboard design
involves an
altered conical parabolic curve
that is based on the players preference for string gauge and action. He suggests using 12 gauge string sets for his instrument, preferably made of phosphor bronze material, since he uses Fishman Rare Earth SA220 humbucking pickups on his instruments.
These pickups attach to the pickguard and are snug up against the distal end of the neck.
All the wiring is concealed under the pickguard, including the 1/8" output jack. He prefers these pickups to piezo versions as he feels they deliver a more realistic sound.
The headstock on Parker's archtop guitars is similar to the minimalist six-on-a-side type that he used on the Fly guitars. He has chosen Gotoh Stealth tuners to top his instruments. These are the smallest tuners on the market. He covers the back of the tuners with a plate so the machines are not visible.
Ken Parker archtop guitars have a base price of $30,000.
Click on the links under the pictures for the sources. Click on the links in the text for further information.
© UniqueGuitar Publications (text only)
.