Guitar Lifestyle
Updated: 50 min 4 sec ago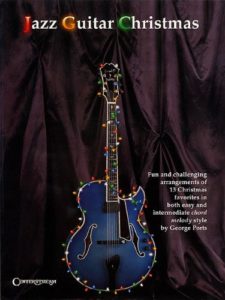 By: Russ
Aloha! Years ago, I was on the search for an easy jazz standard to learn. I had tried and failed at so many before and it was always a frustrating experience. But then I found a transcription of "It's Only A Paper Moon" (which is my wife's favorite song, so I was familiar with the tune) and it was broken down two different ways: There was a single-note transcription for beginners and then there was the chord melody version.
I learned the single-note version first (obviously) and then, as I became more comfortable with the song, started to incorporate the chords into the song. Sometimes it was difficult and I backed off, but after a while I had it nailed (but kept the single-note run for the bridge to give it more of a guitar solo feel). Because I knew the single-note version, I never became too frustrated when I was learning the chords because I could always revert to the single notes. The song would stay the same and it didn't have the catastrophic crumbling that a song would normally have when you don't know the next chord and that turned out to be a huge inspiration.
I wish all instruction was like this.
And then I found Jazz Guitar Christmas by George Ports from Hal Leonard. It breaks down thirteen Christmas songs (a favorite genre of mine) into two versions: easy and harder. It's not single-note transcriptions, but it also isn't very difficult. Even the graduated version doesn't veer too far into the impossible and the harder one is built on top of the easy transcription meaning that you're still going to hit those same notes as before, but they're incorporated into bigger chords or there are some more notes between them.
Honestly, I could see how some people would think that there is some wasted potential here because two version of thirteen songs could easily be twenty-six songs, but I think this is a solid way to learn new material. You make it as easy as you can to get the student into the tune and practicing it for fun, and then you build on top of that with more difficult material, but now they have a safety net when they play.
In the education world, it's called known-to-unknown and it basically means that if you saw the end goal (the more difficult version of the song) and there wasn't a clear path to that end, the student would be intimidated and psych themselves out or lock up. But if you took what they knew (basic guitar skills) and taught them the easy version of the song, they would know the melody, tempo, and feel and the end wouldn't be nearly as daunting.
The book costs only $9.95 and it's worth it not only because it's a great collection of Christmas songs that, once learned, you'll be able to impress friends and family alike on a quiet night by the fire as snow slowly falls outside the window, but because it serves as an excellent example of an instruction technique that is just getting a toe-hold in education systems. That alone makes it worth it to me, but yeah, learning Christmas songs and sounding good is also pretty cool. And come on! It's ten bucks! Just buy it and see what I mean.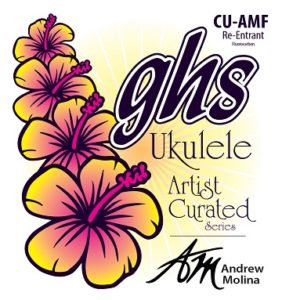 By: Russ
Aloha! Before I moved to Hawaii, I knew I was going to be buying an ukulele for me at least, but was trying to get the kids interested in it as well. I found a video of an amazing player tackling Taylor Swift's "Shake it Off," and my daughter, a huge Swift fan, was intrigued.
I was more interested in the player, though. Andrew Molina is amazing. He's got that infuriating combination of making music that sounds very difficult to play while looking like it's the easiest thing in the world for him. That combination makes you feel a mix of inspiration and hopelessness.
Over the last couple of years, I've seen more of Molina's videos and my favorite to date is "Surfing Jaws."
It's got that same combination of skill and an easy look, but melody is so solid and unrelenting that you could hum the whole thing. While there's a ton of virtuosity on display, the song never takes a back seat to the melody and that's why it's so strong. In short, it's the perfect instrumental. I love it.
So, as a fan of Molina's, I was pleased to see a string set from GFS curated by Molina. I asked for a review set and, when they arrived, strung up one of my tenors and had some impressions.
The first was that they don't magically make you better. That being said, there are some attributes to them that, over time, will make it easier to get better.
The first is that they're made slightly thinner than average strings, but with greater tension. The result is a strong, punchy tone that doesn't sound muffled or boomy like some ukulele strings do.
The second is that, with that added tension, there's a little more force involved with fretting them (and a slightly better chance of making notes go sharp) but that's okay because added tension reduces the amount of distance a string will travel when plucked/strummed/picked. The result of this is a lower likelihood of the string hitting the frets above your fretted note and creating a buzz. Because of this, you can lower the action on your uke and use less force to press down on the strings.
So, basically, you would only have to exert slightly more effort if you kept the action on your ukulele high, which is no longer a necessity.
Additionally, with the greater tension and less string travel, the strings snap back to where they should be faster and it doesn't take long at all to appreciate that fact as your fingers know exactly where to go to pick the next note. This is hugely beneficial when tremolo-picking in particular.
With strings that go back to where they should faster, and the lower travel space/time giving you the opportunity to lower your ukulele action and make playing easier, it's easy to see that, while they won't magically make you a better player, they'll give you some added features that will make playing a little easier, which will only benefit you in the long run.
I think this string set is a good investment in experimentation. I say buy a set, throw them on your ukulele and see what I mean. You don't need to adjust your action or anything to get a feel and appreciate them for their tone and playing potential.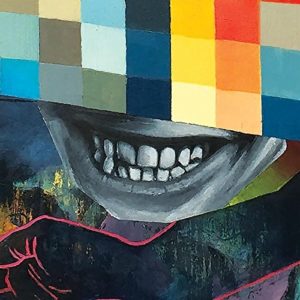 This is a roundup of a few things I've been enjoying this month:
1. Doom Side of the Moon – This is a side project from Sword guitarist Kyle Schutt. As its name suggests, this is a tribute to Pink Floyd's Dark Side of the Moon. It's a fairly faithful interpretation, while adding in some of the "Doom" elements that Sword is known for. I'm enjoying this one more than I thought I would.
2.  Elixir OPTIWEB Electric Guitar Strings – I've tried several versions of Elixir strings in the past, and none of them have stuck. I've been playing Ernie Ball Slinkys for over 20 years, so I'm very familiar with those, and the Elixir coated strings have felt too different to change. However, I recently had a chance to try out some of their new OPTIWEB coated strings, and I've actually been enjoying playing these. These feel much more like the Slinkys and had a brighter tone than other coated strings when first used. Additionally, they've so far remained a bit brighter than the Slinkys I put on my other guitar at the same time. It remains to be seen how much longer they'll last than the Slinkys, which will be the real test of whether these are worth the price premium.
3. Milligan Vaughan Project – This is a collaboration between Austin veterans Malford Milligan and Tyrone Vaughan. They recently released their debut album, MVP, and I've been enjoying it. There's nothing particularly new about the album, but it combines some really nice guitar work with Milligan's distinctive vocals making for an enjoyable album.
4. Analogman Beano Boost – A friend of mine picked up a Beano Boost about a year ago and he's been encouraging me to pick one up ever since. I finally picked one up not too long ago, and it's really added an extra dimension to my amp. It's based on the Dallas Rangemaster Treble Booster with a few added tonal options. It can get quite fuzzy with the boost rolled up, but it doesn't get muddy like every fuzz pedal I've tried. It works best into an amp that's already breaking up at least a little.
5. That Pedal Show – This has been one of my favorite YouTube channels lately. Dan and Mick play off each other really well and have different enough styles that you can get a pretty good feel for the pedals that they test. New episodes come out every Friday, and there's a nice backlog to keep you entertained while waiting for new episodes.
By: Russ
Aloha! To close off this series of uke books for music from the 1990s, I'll admit that not ALL great music comes from the 90s and we should never limit ourselves to just one decade. Even if it IS the greatest decade of music, it in no way discounts great music that came before or after it.
So, with this being said, we can expand our view a bit to something the 1990s had a lot of and incorporate music from other decades to fit the theme.
I'm speaking of acoustic rock.
Acoustic Rock (an Ukulele Chord Songbook) comes with 60 songs, written in my favorite fake-book style with chord boxes at the beginning of the song and then just chord names on top of the words where changes happen. To me, this is the least distracting way to learn music, even if you're just focusing solely on strumming along (all the other books in this review series also feature musical notation so you can transcribe the melodies if you wanted). I LIKE strumming along to music. I like singing along as I strum. Because of this, I really like books like this.
It's also not a giant book. 60 songs is a lot, but because it's not the size as a standard music book (not to mention the saved space by not including musical notation), the book is more than manageable, able to be thrown in a gig bag and brought along with you wherever you go to play.
Those 60 songs cover way more than just the 1990s, too. In addition to 90s offerings ("3 AM," "Iris," "Wonderwall," "Torn," "Tears in Heaven," etc) there are songs from before ("American Pie," "Blowin' in the Wind," "Wake Up Little Susie," and more) and after ("21 Guns"). The real meat of the book is from 1999 and before, though, with all sorts of classics at your fingertips.
The reason I find this book so compelling is that acoustic rock is usually anthemic in some regard. When most people think anthemic songs, they think about the songs that are loud and electric – the ones that have tons of oomph behind the choruses. But I think there's a very strong case for quieter songs because these are the ones that we sing along with in the car and feel more of a connection to (which makes singing it all the more meaningful).
Overall, this is a super valuable addition to your collection of music books because you can keep pulling from it for different moods, eras, and purposes. It's got a lot to offer an ukulele player, so check it out and see what you think!
Until next time!
Mahalo!
By: Russ
Aloha! I'm going to continue my 90's-themed, ukulele-twisted nostalgia with what is arguably THE 90s band. The ultimate 90s band. The band that encapsulated a scene, burned down what was before, and set a decade into motion.
Of course, I'm talking about Nirvana.
Nirvana hit with such force and speed that it was a shock to almost every adult. The Christmas of 1991 saw a ton of copies of Nevermind fly off the shelves (probably with Christmas money from relatives), but Michael Jackson's Dangerous was still #1. Until the week of January 11th, when kids returned their gifted copies of Dangerous and bought Nevermind with the refunds, moving Nervmind from #6 to #1 beating Dangerous on the charts.
Just think about that for a second. Nirvana moved from #6 to #1 based on word of mouth and refunds of probably the most popular artist to date. If that doesn't say the kids are into your music, nothing ever will.
But that basically sums up Nirvana's whole lifespan. They presented a sound and image that was so popular that it dismantled what was there prior. Nirvana has solos, but not lame-o Poison solos. And they didn't have weak power ballads like… well, Poison did that too. Poison just kind of sucks and seems to be a pretty easy punching bag right now.
Nirvana seemed to be the band that had no interest in fame even if they did want to be rock stars and everyone bought in. The raw sound, the catchy hooks, the great writing, and the rebellious image of normality when bands like Guns 'N Roses and Twisted Sister were making spectacles of themselves presented us with something new.
An alternative.
They seemed not only like the genuine article, but like a band of everybodies. Their image was the same as most of the people at the time and their songs weren't known for being insanely difficult. It moved the focus from virtuosity to being genuine and we can all be genuine.
In the end, it was too much to bear for singer Kurt Cobain, but he left behind an amazing legacy that still sounds fresh today.
And you can play 20 of them on the ukulele with this book from Hal Leonard!
Personally, I was suspect when I first saw the book as Nirvana is usually associated (at least to me) with loud electric guitars, but the more I thought about the songs themselves, the more convinced I became that the different tone of the ukulele combined with the stripped-down nature of strumming and singing the songs to yourself with no accompaniment might turn them into something other than what they were before.
Kind of like their unplugged album.
The book presents 20 solid songs in musical notation with chord boxes and the ultimate goal of getting your strumming along. And, while the songs aren't overly difficult, some of them have a good amount of chords and fast changes, so it should make for a fun challenge for some players.
Or you could always play them slower for a moodier feel. There's really no WRONG way to play Nirvana.
And it's because of this that I recommend this book for anyone interested in playing alternative on the ukulele. 90's alternative hits often came in two varieties: original and unplugged and the unplugged version was almost always better, but if you wanted to rock out, the original was the way to go. Similarly, you can stretch, slow down, speed up, and warp these songs and usually have good outcomes because they're just good songs and you can do that. They aren't the kind of songs where if you pull a thread it all comes apart. The songs are solid and complex, not so much in the chord shapes, but in the different vibes you can present just by playing it slower and alone.
Think "Hurt" by Johnny Cash compared to the original Nine Inch Nails. (And I know that was from 2002, but it still works to convey what I'm talking about)
But if you're not interested in creating a moody environment playing these songs slower and alone (or even at speed and alone), you can always play them at speed with your friends and sing along because that was an important part of 90s alternative, too. For all the angst and difficult issues being worked out from abortion, suicide, and general injustice, it was also about finding peace and being happy.
So I say get this book, grab your uke, and see what you can do with these songs!
Until next time!
Mahalo!
By: Russ
Aloha! Let's talk briefly about the human brain: It has a marvelous flexibility and one of the coolest things that it does all on its own is, over time, it diminishes not only the painful, but the mundane as well and at the same time embellishes what you think is great. This is what makes people think the past (pick whatever period you want) was some sort of golden era unlike today. But thirty years from now, we'll probably look back and say it actually wasn't all that bad.
Hopefully.
Anyway, this is where nostalgia comes from. The food that wasn't anything special – just food you ate as a kid – became comfort food as an adult, the TV shows that had all sorts of flaws became genius, and the music was the best ever offered.
Personally, I'm a sucker for nostalgia. Regardless of the psychology behind it, it brings a pleasant, warm feeling with it. A familiar feeling where you're comfortable with whatever you're thinking of.
This is especially true with music – just ask people what the greatest decade was for music and it'll probably line up with when they were young.
Even though the only correct answer is the 1990s.
The 1990s was the BEST decade for music because no decade featured so much music from different genres getting so much attention from different audiences. There were still songwriters playing their own material in the pop world, metal went through changes from hair to heavy to nu, punk became accepted by the masses, hip hop went from crying for social justice to bragging about personal wealth (and even included its own small civil rights movement), and we even had a popular shock artist in the middle of it to freak out the parents.
And when my daughter was just a baby, I would play her songs from the 90s when she was crawling around on the floor, or to try to calm her down in the evenings. Today, even though she has her own music, she still knows the words to some of the songs and loves to sing along with them. And since she's learning the ukulele, she wanted to play the songs I used to play on guitar on her own ukulele.
I decided that this can't possibly be an isolated incident and would make a fun writing topic anyway, so I decided to get some books from Hal Leonard and indulge her (and my own) nostalgia.
So let's start with what might be my favorite band of the 1990s: Green Day
Green Day is one of a handful of bands/groups/artists that not only have hits that span decades, but have hooked in fans from different generations. My kids would love to see a Green Day show, but so would I because I remember seeing them when I was fourteen and loving every minute of it.
They were pop punk before pop punk was a thing, and they were never scared to experiment with their music or sound and they've used this to grab different people for different reasons, but all finding something in the music be it fun, energy, stories, or something more personal.
And Green Day translates well to ukulele! The book I received is from Hal Leonard's "Play-Along" series which aims to have you playing the songs quickly and easily. They aren't making the songs any more intricate or difficult than they need to be in the transcriptions (music notation with chord boxes and TAB for solos), and they also include a CD to hear how the songs should sound (complete with a backing band), and then you can play with different tracks sans ukulele so you're the star (and so you can get the timing down). You can use the CD in any CD player, but if you use it in your PC or Mac, you can also slow it down without changing pitch so you can work your way through any parts you may be having trouble with. That's a pretty handy tool to have at your disposal.
The songs are easy to learn and fun to play. Most punk is. But unlike a lot of punk, Green Day's songs always seemed to be filled with more hooks and melodies than a lot of either the screaming punk popular in the 80s or repetitive pop punk of the late 90s. They've always been a great compromise between punk rock tone and energy and pop melodies and this means the songs are fun to play, fun to sing along with, and fun to learn. People are quick to sing along with Green Day when you start playing.
The book features 12 songs that span just about their whole career from Dookie to 21st Century Breakdown. Personally, I'd love to see a more fleshed-out Green Day offering more songs, but these 12 will certainly get your foot in the door for the style of this fun band to play along with for $14.99!
Until next time!
Mahalo!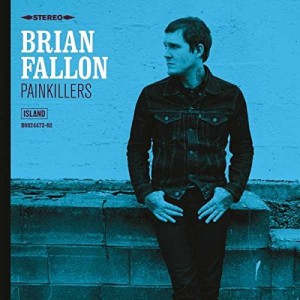 By: Russ
Aloha!
Let's talk about Bruce Springsteen. I'm not a huge fan, myself, but I always find Springsteen fans to be an interesting bunch. Have you ever noticed how they usually say the same things? They talk about how Springsteen is a voice of the people – that he sings their songs, not necessarily his own. Isn't that interesting? Instead of listening to his music and seeing a window into his soul, it's like they're using his music as a window into their OWN souls.
I tell you, it's beyond interesting, this Myth of Bruce. And, because of it, I have tried repeatedly to get into his music but most of it just doesn't do anything for me. He may sing the songs of millions of souls, but mine is left out and there is just way too much saxophone.
Recently, though, I began to wonder if I've EVER felt that sort of connection and I came to the conclusion that I have not. I have listened to music that I found poetic and appropriate for the subject. I could follow and grasp the social unrest of punk rock, the anger of metal, the avant-garde nature of experimental jazz, and love it all, but through every bit of it I failed to see myself through the music. It's always been looking at the artist and not using the artist as a mirror to myself.
I don't think this makes me lacking in some serious manner – I can still appreciate music – but I just haven't gone to that other level.
Or, I should say, I hadn't because recently I have in a big way.
I have a playlist on my phone filled with music I don't have any experience with. I'll see someone on a late night show or get a recommendation from someone and download an album or two from Apple Music and give it a shot. The good stuff gets dumped into my catch-all "Awesome" playlist and everything else falls away.
On a long trip away from home, I decided to listen to something new and pulled up my experimental playlist and listened to Brian Fallon's Painkillers, and that was it. I instantly fell in love with it on that new level. The folksy rock sound that flows throughout the album gives it a raw feel even though there are layers of instruments and back-up vocals and the prevalence of acoustic guitars gives the whole thing an intimate vibe. It isn't a folk album by any means, but it has that folk feel where people are usually more honest with themselves and the audience about what they're feeling – where there's less pretense and showmanship to convey an image rather than the real person. There's more dimension to the songs and Fallon moves around from bouncier offerings to heartbreaking songs with ease and he's definitely bringing you along for the ride.
I listened to it all and felt like he was singing my songs or my soul. There was just a feeling to it that is tough to describe. The weirdest part is that I couldn't point to any one area of my life that was a good example of whatever song and draw a connecting line like "this song reminds me of when I…" No, the situations were all alien to me, but through Fallon's writing and playing they all felt like I had lived them at some point and had come away wiser if a bit more jaded.
And what a testament to his writing and performing when he moves beyond getting your feet to tap – beyond even painting a picture for you to admire from afar and say "I understand," – and move with ease from the first song to the last bringing you on a trip and you feeling like you had done these things, lived these lives, and learned these lessons. The stories don't show the song's subjects as a heroes or villains, but rather just people and sometimes people do good things and bad things. It's just part of being human and it's nice to hear stories that back that up.
The playing is something to really sit down and listen to as well. Most of the songs feature a comfortable strum and familiar chords, but the accents that Fallon places on top of them with different licks, solos, and other instruments make everything feel like something you've never heard, but something that is still familiar. Like sitting in someone else's comfortable chair. Yes, it's not the same chair you're used to, but it's still comfortable and you can delight in the differences instead of them distracting you too badly.
I am NOT saying that Painkillers sounds like a Bruce Springsteen record, but the immediate attachment that it made me feel – that closeness that spread like wildfire inside me – is so similar to what I hear when Springsteen fans talk about the Boss that I get it now. I understand why his fans are so devoted. Springsteen, despite his success, still manages to convey a "one of us" vibe. He never comes across as above his fans, or more elite. He feels like a neighbor down the road – an old friend from school – and you want to support that. Brian Fallon does the same thing: Through his excellent songwriting and performing, Painkillers comes across as intimate and vulnerable, but still something you can shout along with in your car. His songs are anthems of the every-man and nowhere does he imply that he's above you.
Painkillers is, without a doubt, my favorite album I've ever listened to and I had to come here and gush about it even though I focus on ukuleles and instruction materials. I feel like it's my duty to proselytize and tell you about it because I haven't seen enough press about it or t-shirts on the streets. I have no doubt that Fallon's album would be appreciated by a ton of people if they gave it a shot so I implore you to check it out. The worst case is you feel like he doesn't speak directly to you, but what if he could if you gave him the opportunity?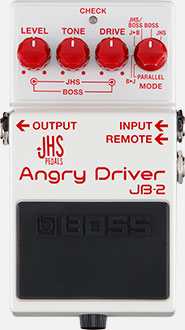 Boss recently surprised the pedal industry by collaborating with JHS Pedals to create the JB-2 Angry Driver:
To celebrate the 40th anniversary of BOSS compact pedals, BOSS and JHS Pedals have come together in a historic creative collaboration between the two industry leaders. Housed in the classic BOSS compact design, the JB-2 Angry Driver pairs the tones of the iconic BOSS BD-2 Blues Driver with JHS Pedals' popular Angry Charlie. Working closely together, the two pedal innovators have developed an all-new combined circuit with refined sound and performance perfectly tuned for dual-mode drive operation.

The JB-2 Angry Driver features three dual-concentric knobs that provide independent drive, tone, and level control for each overdrive type. Via a six-position mode selector, you can use each overdrive independently, or combine them together in series and parallel configurations. With the ability to blend the Blues Driver's famously expressive low-to-mid gain tones with the Angry Charlie's aggressive rock voice in any combination, the JB-2 Angry Driver delivers unmatched range and versatility from a single overdrive pedal.
This is quite an interesting pairing. Even though it's fairly ubiquitous and has been for years, I have not played through a Blues Driver before, but I have played through the Angry Charlie and I really liked it. It's a great Marshall sound.
I like the switching options that the JB-2 comes with. It's interesting that you can run the two sides in so many different combinations, including running both in Parallel Mode. It's clear Boss really thought through this pedal, and it looks like they've done a solid job.
Dan and Mick at That Pedal Show recently did a feature of this pedal where they detail a lot of the options. They also compared it to the pedals it's based on as well as a Marshall Guv'nor pedal: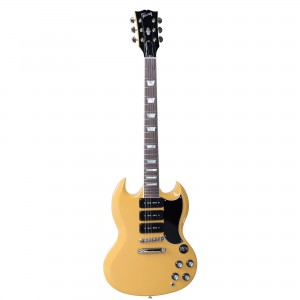 Gibson and Gary Clark Jr. have collaborated once again to create a new signature guitar, the Gary Clark Jr. Signature SG:
The all new Gibson Limited Edition Gary Clark Jr. Signature SG guitar captures the spirit of creative inspiration. Finished in an exciting, vibrant Gloss Yellow and featuring a trio of aggressive Gibson P90 pickups, this guitar embodies the organic and sonorous sounds of one of this generation's most influential guitarists, vocalists and songwriters.
Gary Clark Jr. is perhaps more widely associated with the Epiphone Casino, which Epiphone celebrated in the Blak & Blu Casino Signature model they made for him in 2015. However, he has been playing an SG quite a bit since collaborating with the Foo Fighters on their Sonic Highways album in 2014. Clark has stated that Foo Fighters' guitarist Pat Smear gave him an SG during those sessions.
Earlier this year, Clark was seen playing a new SG at the Grammys show. It turns out that it was a new signature model.
This model differs quite a bit from the typical SG in that it has three P90 pickups. Gibson SGs have had P90s before, of course, but you rarely see them in a three pickup configuration. It also differs from other SG models in that it is gloss yellow, has 24 frets, and the controls are laid out in a three volume + one tone configuration.
Everything else appears to be fairly standard for SGs:
mahogany body
slim-taper neck
24 3/4″ scale
rosewood fingerboard
nitro finish
ABR bridge
The street price of $1499 seems pretty reasonable for an American-made signature guitar. The guitar is currently (as of this writing) available at Zzounds while other retailers are taking pre-orders.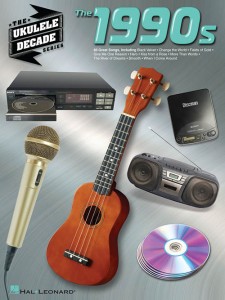 By: Russ
Aloha! Let's say that, for some CRAZY reason, you've never heard any music from the 1990 but because people love it so much, or request it so often, or reference it in some way, you're looking for a crash course in it.
Or, alternatively, you're a sucker for 1990s music and want a treasure trove of offerings from the decade.
Either way, The 1990s (from The Ukulele Decade Series) is the book for you. It's a pretty massive tome of 80 songs with chord boxes, musical notations, and verses written out. It's a full-size music book with about 312 pages of music and, because of this, it's a little cumbersome. But once you get over the fact that it's not meant to be traveled with but rather used to pull individual songs from to learn, the content really shines.
The music included is just about everything you could love from the 1990s when it comes to instrumentation. It's got early 90s cheese ("I'd Do Anything for Love (But I Won't Do That)") to meaningful alternative ("Runaway Train"), odd-duck music that would have a tough time surviving in any other decade ("Santeria"), one-hit wonders ("She's So High," "Sex and Candy"), to songs from movies ("My Heart Will Go On").
While Meatloaf would be an interesting pick for ukulele, most of the songs in the book seem like a natural fit and be fun to play – especially for someone who's really into the decade. If you think about all the different offerings from all the different genres and sub-genres, you could use this book alone and put together a pretty interesting show with enough variety to be plenty interesting and enough of a theme to be fun.
Personally, this is one of the first uke books that I ever wanted. I thought that it was awesome to take a greatest-hits approach to a music book, and this one fits me so perfectly that I couldn't NOT enjoy it. It's my desert-island music book – the one book that I would grab and bring along if I knew it was going to be the only uke book I could have because it's more than just the song count, it's the quality of those songs and how much they mean to me. This book is the soundtrack to my childhood and the songs mean a lot to me. I'm sure we all feel the same way about the music we grew up with (even if you didn't grow up in the 90s) so it's nice to have so many fantastic songs to pull from.
And with a list price of $22.99 (and a cheaper street price), it's a steal. I think that, as my daughter gets a better grip on the ukulele, she'll be looking to learn some of the songs she grew up with me singing and playing to her and this is going to be appreciated like crazy. True, it doesn't have TAB or CDs you can play along with, but I think the quantity and quality of songs makes up for it.
Overall, I couldn't recommend it more.
You can buy direct from Hal Leonard, from Amazon, or from you favorite book store.
Until next time!
Mahalo!
-Russ