Guitar International
Web's #1 Guitar Resource
Updated: 3 hours 19 min ago
By: Rick Landers

A few years back, many of us have whiled away our time reading some insightful interviews in the pages of Guitar Player (GP) magazine or discovered more information about acoustic and electric guitars and their players, all gifted to us by the hard work and guitar passion of Tom Wheeler.
It was with sudden sadness that I learned of his passing from a friend and fellow guitar fan.
Tom generated informed enthusiasm for guitars and left his mark in kind, friendly and measurable ways, and in his global reach while serving as the Editor-in -Chief of Guitar Player (1981 – 1991), freelancing for Rolling Stone, editing Bass Player and authoring numerous tomes on guitars, amps, and musicians.
"On behalf of NAMM and our Members, we mourn Tom's passing.  His role as a writer in the '70's and then as chief editor of Guitar Player brought him into our world each month and he became required reading for all of us in music retail.  He was also aware of the industry's responsibility in creating new players and under his leadership GP regularly sponsored our Stairway to Stardom program when I was at Skip's Music in Sacramento.  Tom's efforts helped shape the guitar market for decades and his contributions will live on." – Joe Lamond, President, NAMM
Tom's passion led him to conducting interviews with such legendary guitar masters and music industry leaders as, Les Paul, B.B. King, Eric Clapton, Leo Fender, Keith Richards and Little Richard.
Tom and I collaborated on an interview with the legendary Les Paul, with Tom graciously agreeing to write the introduction. We became personally acquainted during his visits to Paul Reed Smith Guitars, while we enjoyed the company's annual trade show in Maryland. And later, his excellent book, The Dream Factory: Fender Custom Shop, was named Guitar International magazine's Book of the Year.
More recently, Tom served as a journalism professor at the University of Oregon where he taught courses on "Grammar for Communications" and "Feature Writing".
Books by Tom Wheeler
The Guitar Book: A Handbook for Electric & Acoustic
The Soul of Tone: Celebrating 60 Years of Fender Amps
Stratocaster Chronicles (Book of the Year Award – Vintage Guitar Magazine)
American Guitars: An Illustrated History
The Dream Factory: Fender Custom Shop (Book of the Year Award – Guitar International Magazine)
The Fender Archives: A Scrapbook of Artifacts, Treasures, and Inside Information
The Stratocaster Continues
Phototruth or Photofiction: Ethics and Media Imagery in the Digital Age
Several of his books included forwards by luminaries in the world of guitar, including: B.B. King; Eric Clapton; Billy Gibbons, Les Paul and Eric Johnson.
Tom Hutchin Wheeler passed away in the San Francisco Bay area at the age of 70, on Saturday, February 10, 2018. His legacy continues not only in his masterfully written books and articles, and in the so many other ways that he personally inspired his fellow guitar players, but most especially in how he will forever live in the hearts of his family and his many friends.
by: Robert Cavuoto
Joe Satriani, Phil Collen [Def Leppard], and John Petrucci [Dream Theater] are just about wrapping up a 25-date G3 Tour across the U.S. and Canada that started on January 11th and will end on February 25th.
One of the final tour stops was at the New Jersey Performing Art Center in Newark, NJ on Sunday, February 19th.
Joe Satriani has been putting on this traveling guitar extravaganza since 1996 and taking many incredibly talented guitarists out with him.
G3 is a celebration of all things guitar! Each artist comes out individually to perform their set, and then the trio meets to close out the show for the ultimate G3 Jam.
Phil Collen opened the show with a '70s cover song "Quadrant Four" and then tore into an instrumental tune he wrote as a homage to Joe Satriani called, "Yo 2 Joe." Debbi Blackwell-Cook (vocals) and Forrest Robinson (drums) from Phil's side band, Delta Deep, joined him on stage for three additional songs from their CD; "Burnt Sally," "Mistreated" and "Down in the Delta."
You can hear smoldering live versions of these Delta Deep songs on their new CD/DVD called East Coast Live which was released January 26th.
John Petrucci performed next with his fellow Dream Theater bandmate Mike Mangini on drums. He performed a series of six songs, including one he wrote specifically for the G3 Tour called "Glassy-Eyed Zombies." Other technically challenging songs performed by John included; "Wrath of Amazon," "Jaw of Life" "Glasgow Kiss," and "Damage Control."
Joe Satriani came out for his 55 minutes set like a fireball, opening the show with the appropriately titled song to match his mood called; "Energy." He brought in a cool mix of songs including "Thunder," Satch Boogie," "Superfunky,' and closed the set with his biggest hit; "Summer Song."
On January 12th Joe released a new studio CD called, What Happens Next, and he performed two of them called, "Catbot" and "Cherry Blossom."
The moment the fans were waiting for had arrived, the G3 Jam! Tonight there were a few surprises in store! Glenn Hughes who performed on Joe's new CD came out for a hair-raising version of Deep Purple's "Highway Star."
It was just announced that Glenn will be doing a U.K. tour in October to perform Classic Deep Purple songs. We can all only hope he brings that tour to the U.S.! Glenn remained on stage for the final two songs; Stevie Wonder's "Superstition," and "Goin Down", by Alabama State Troupers.
Debbi also joined in on vocals and Alex Skolnick of Testament, who surprised the audience of guitar fans for the last two songs. All Hell broke out on stage at New Jersey Performing Art Center in Newark – it was complete guitar-ecstasy!
PHOTO GALLERY (Robert Cavuoto)
By: Staff

There are thousands of video guitar lessons on-line, some are marginal and some are terrific. GI PICKS will help to ease the pain of hunting around to find videos worth viewing to learn guitar basics, intermediate and advance techniques.
By doing so, we hope to reduce or eliminate the frustrations we've all faced when watching videos and some instructor showing you tuning speeds through the process, skips critical steps along the way of learning to play guitar or congests the video with too much talk.
The TOP GI PICKS videos we promote approach guitar lessons focus on process, are well-paced and smartly presented. I highly recommend that you visit each site in this series and if you find what you like, subscribe!
By: Robert Cavuoto
In 2017, legendary Genesis guitarist, Steve Hackett, embarked on his Genesis Revisited & Classic Hackett Tour.
During a stop at Birmingham Symphony Hall in London of that year, Steve and his band filmed a concert for and released the CD/DVD  entitled, Wuthering Nights: Live in Birmingham.
This tour marked the 40th anniversary of Genesis's Wind & Wuthering album. It was his last performance on a Genesis album.
To celebrate, Steve performed five of the best-loved tracks from this iconic album: "Eleventh Earl of Mar", "One for the Vine", "Blood on the Rooftops","…In That Quiet Earth", and "Afterglow." The CD/DVD also includes many songs from Steve's 2017 solo album, The Night Siren.
I had the immense pleasure of sitting down with Steve in New York to discuss the making of Wuthering Nights: Live in Birmingham CD/DVD, his experiences and challenges honing his craft as a guitarist, and the status of a potential Genesis reunion.
******
Robert Cavuoto: It's the 40th anniversary of Wind & Wuthering, your last album with Genesis; does it feel that long to you?
Steve Hackett: Not really, it seems like yesterday, but there have been massive changes in me and the world. I'm now able to go back and look at that material with a fresh set of eyes. I can do what I should have done with it at the time.
I now have carte blanche to reinterpret it. Giving it alternative or extra guitar parts is a nice thing. It's not that it's easier to play. I think Wind & Wuthering was an excellent album.
A lot of people ask what does "wuthering" mean? It means blustery and windy. It's not even a word in common British use. But, it's from the book, Wuthering Heights, by Emily Brontë. It also spawned a movie. Genesis and Kate Bush used it as inspiration, and it was our first hit single.
Robert Cavuoto: I recall reading an interview where you said you are most at home while on stage. Is that still the case 40 years later?
Steve Hackett: I think home is with my wife. Wherever we are, we consider it to be home, because we are very close.
There are two ways to look at being on stage. If you are fearful it can be a very lonely place, if you enjoy it, it can be a very welcoming place. You have to get over that nervousness, as it can get in the way. You wouldn't be
human if you didn't walk up on stage with some sense of, "Will this go right?"
I think the difference now and when I was a younger player is the degree in wanting to do this. I know there is an audience for it, the songs have proved themselves, and it's a very different relationship with the same material and hoping people were going to like it.
Robert Cavuoto: What do you remember special about filming your new DVD, Wuthering Nights: Live in Birmingham?
Steve Hackett: I remember it was a good evening; I played the Symphony Hall in Birmingham quite a few times and each time was an extraordinarily tremendous experience.
I think as soon as the cameras are on and people know they are being filmed there is a perceptible feeling particularly with the audience that "Oh, I better be on my best behavior." [Laughing]. They made a lot of noise during the night, but even the audience can get a little bit nervous during filming.
Robert Cavuoto: With such an immense musical catalog to chose from, do you find it difficult to pick the set list, whether it's for this DVD or for your upcoming tour?
Steve Hackett: The DVD is a show we did last year. It moves on now from the 40th anniversary of Wind & Wuthering to the 40th anniversary of Please Don't Touch, the first solo album I did after I left Genesis.
We changed the set list, as we have slightly different personnel with the band this time.
People have asked for songs like "Supper's Ready", which is very long, and from Genesis's Foxtrot album in 1972. From the Nursery Crymes album, we are doing "The Musical Box" and "The Fountain of Salmacis" Its forte' has always been to perform live, there is just something about the grand sweep of the romantic track. With its orchestral keyboards, I think it's some of the best writing the band came up with at that time. The guitar makes cameo appearances in it, but essentially it has a symphonic temper to it.
Robert Cavuoto: Is "The Fountain of Salmacis" one of the songs that still makes the hair on your arms stand up when performing?
Steve Hackett: Yes, there is that, but I want to get it right. It's one that you have to be on your mettle because you are riding the volume pedal the entire time and plenty of changes. No matter how familiar you are with it, you have to be very precise to do all the moves in the right places.
It's this big romantic thing with a mythological and mystical aspect to it. It also has a theatrical aspect which was never enacted with Peter Gabriel; it was prior to him becoming and living the song. That actually happened one album later.
By Foxtrot he was depicting the actions of the songs much more. Maybe it's all for the better, the idea of trying to impersonate some of the action would be less than believable. It's better to have an image in the mind of the listener that isn't too defined. It has a very strong visual element implied in the music, but I don't think it necessarily has to be accompanied by physical and visual images.
A lot of songs from that time and prior to it, like The Beatles doing "Sergeant Pepper", it was pre-visual music conjuring images and characters. I'm very glad there wasn't a collection of videos that accompany that song. It didn't need that.
Robert Cavuoto: I feel that you are one of the most technically proficient guitarists of our time. How do you feel about that title?
Steve Hackett: Well, I have to be humble about this. No matter what you can do on the guitar; I always feel that more can be achieved. Even when you can occasionally pull off the dazzling fast stuff, you always want to be able to do something more.
It's almost like cyclic breathing where you have to keep up that level of energy and play fast for about an hour with no trip-ups. How is that possible?
You have to vary techniques tremendously to do that. You couldn't keep up the same technique, so you would have to start switching to bits of tapping and sweep picking. You would have to pull out every trick in the book. I suspect it's the same way to play really proficient Flamenco technique works; very full on.
Robert Cavuoto: At what point in your career did you realize that your style was truly unique?
Steve Hackett: I guess that's for others to say. I suspect that I look for authenticity rather than originality. I have arrived at the point where I realized that nothing I do will be completely unique, because all the people that have come before me, and all the people who came after me, as well as all the characters that are around now.
I love the work of a lot of my contemporaries. Many who have been in similar bands and marvel at what they have been able to do. What I try to do is assimilate things into a style that involve very separate schools of thought; the Paganini approach of how would Andrea Segovia interpret a melody or how if Jimi Hendrix played it?
Other people like Carl Perkins, Django Reinhardt, and Pat Metheny, all have these varied schools of approach. There are so many ways to approach musical proficiently. Not to underestimate the effect of legato playing, very slow like a violinist or cellist might play a line and let the melody linger. The legato aspect of that kind of romantic 19th-century style of playing where you hold onto a note, like a lingering caress.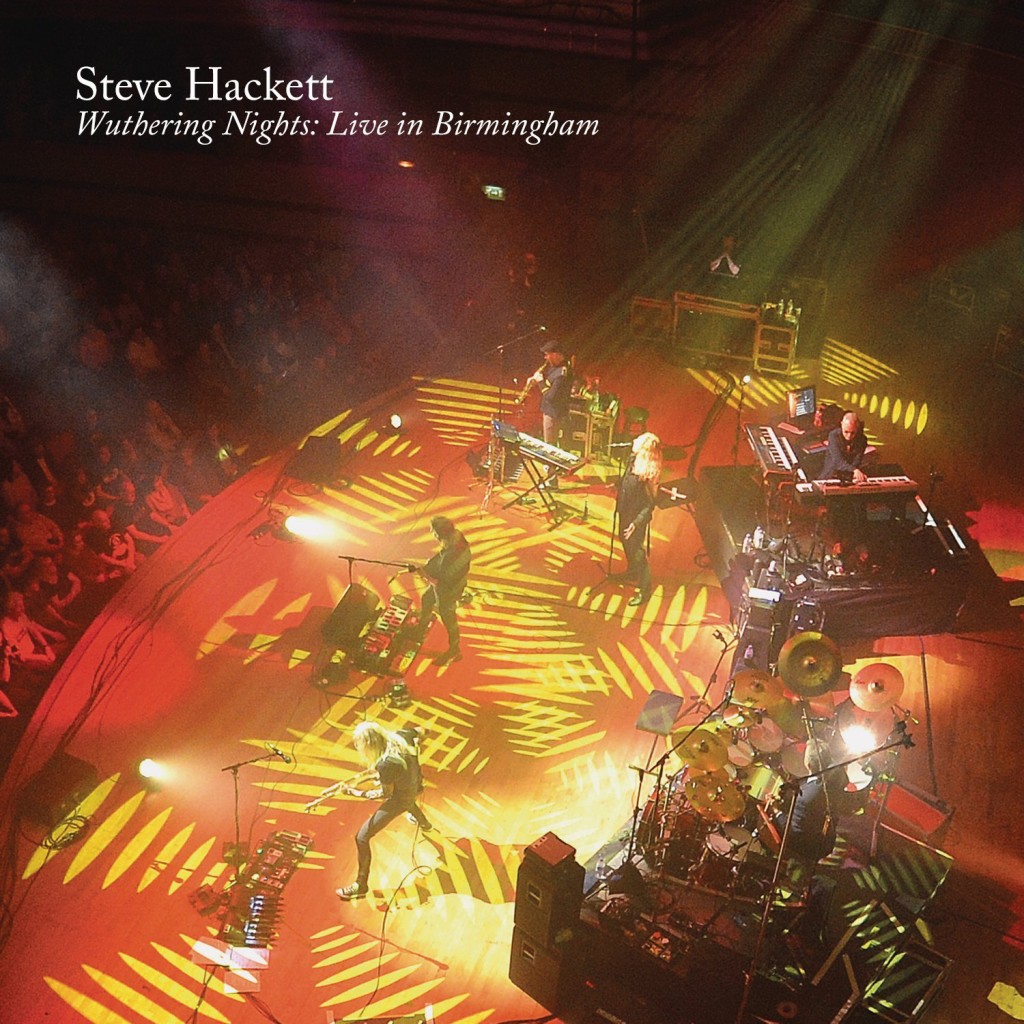 It's not all about proficiency, but bringing life and love you have for it. It's not all about shaving nanoseconds off a blister runs; though we all want to do that and practice it. Its only part of what we are in love with.
If you stick together all these different gears, there is this pantheon of possibilities you find that the guitar can function firstly, as a percussion instrument but beyond that, it gives a close run to the human voice.
Robert Cavuoto: What I was marveling at while watching the DVD was your guitar tone. It was so impressive; powerful yet smooth and not overly distorted. Tell me about your Fernandez guitar and chasing that perfect tone.
Steve Hackett: The Fernandez guitar has a sustainer pick-up. It means that you can get sustain feedback induced from the guitar itself. It functions like the e-bow held over the string. An electrical charge from a battery is going from positive to negative, and that produces a vibration with the string.
The on-board version of that, that's with the Fernandez guitars is pretty astounding, because the notes go further and I play in a different way. Perhaps not the lingering caress, but you can turn something into a cry, a dive bomb, or however you perceive it. It is possible to get the effect of the backward guitar by hitting the string very lightly. There is always the danger that if you hit it too lightly, it won't engage, but using the sustainer pick-up, I'll hammer on it and let the note build.
I do that during the solo of "Firth of Fifth". I let the guitar do a lot of the work, particularly at the beginning. I'm not tearing into it, letting it float, and the guitar meets me more than half way. I just give it a little kick and seems to want to meet me somewhere and its one of the most satisfying moments when it's doing that.
Initially, I thought it was something the sound mixer was doing. I wasn't aware I was doing it until rehearsals. It's actually coming from the fingers and how that pick-up works. It has been a real godsend, that level of technology transcends into the way I play. Live I add some effects like repeats, echo, and the front of the house sound mixer is adding reverbs and repeats, as well. It floats and inhabits that space on its own.
Robert Cavuoto: There has been a lot of chatter on the Internet about a possible Genesis reunion. I can't help but see a pattern where bands start to vet it out in the press to get promoters excited and interested. Do you see this chatter as being the first step to a potential reunion, and what is the likelihood of it materializing?
Steve Hackett: It seems to be the big question that I'm asked during all interviews. All I can say is that I would love to be involved with the original guys. I doubt that it is possible.
There are no plans and suspect the other guys have other priorities than playing Genesis music. Whereas I after doing tons of solo albums, I felt it was time to assimilate my younger self [Laughing] and perform these songs that I fought so hard to get them done right back in the day. To redo them live or re-record them just to enlarge upon their original blueprint. To also add an orchestra in parts where it is relevant, or change the team of players. You won't get the original team playing it.
I suspect that everyone in Genesis has their own idea about what the real Genesis is. I can only guess that Tony Banks, Mike Rutherford, and Phil Collins think the real Genesis was the era with the most commercial success.
The other side of it is with Peter Gabriel and the short period when we were a four-piece. All of the band's incantations have been interesting!
I wish I could hold out more hope for people. My relationship to Genesis is now to own the early work and prove there is a hugely devoted following for it.
Robert Cavuoto: Are you all still friends with all the guys from Genesis?
Steve Hackett: Oh, yes! I'm still friends with them. In fact, we all went to a book launch by Richard Macphail. He wrote a book (My Book of Genesis) about Genesis because he was the original manager, roadie, and did so many things for the band.
He was held in high esteem. In fact, he could have been the band's original singer, but he always set his ego to one side and did great things for the band. So, the four out of five of us showed up for that event. It was nice to see them.
******
Here's one more video for the road, recommended to Guitar International by Genesis/Steve Hackett enthusiast, Mr. Joe Lamond, president, NAMM – Enjoy!
Press Release
Source: Noble PR

Glenn Hughes, the former bassist and singer of Deep Purple, known to millions as the 'Voice of Rock', Rock and Roll Hall of Fame inductee, and the current front man for rock super group Black Country Communion, is pleased to announce that he will be performing Deep Purple only material with his "Glenn Hughes Performs Classic Deep Purple Live" nationwide U.K. tour in October 2018.
The nine date tour promises to be a dynamic, turn-back-the-clocks, two-hour live extravaganza homage to his tenure in MK 3 and MK 4 incarnations of Deep Purple – one of music history's most seminal and influential rock and roll groups.  All tickets are on Sale priced £27.50 (London – £30.00).
Planet Rock will launch a 48-hour ticket pre-sale on Wednesday 21ST February from www.planetrock.com. Tickets will then go on general sale on Friday 23rd February from the 24 hour ticket hotline 08444 780 898 or HERE.
"I'm excited to be touring the "Classic Deep Purple Live" in the UK this October. I first toured Classic Deep Purple Live in Australia and New Zealand last year and it went down like a storm. We're also touring the show throughout South America in April, and festivals throughout the summer. By the time we tour the UK in October, we'll be on fire."
For further info about Glenn Hughes' October 2018 UK Tour, click HERE.
U.K. TOUR DATES 2018:
Bristol, Academy                                             Tuesday 2 October
Leamington, Assembly                                 Wednesday 3 October
Southampton, Engine Rooms                     Friday 5 October
Cardiff, Tramshed                                           Saturday 6 October
Leeds, University Union                               Tuesday 9 October
Newcastle, O2 Academy                              Wednesday 10 October
Glasgow, ABC                                                    Friday 12 October
Manchester, Academy 2                               Saturday 13 October
London, Koko                                                    Monday 15 October
######
Press Release
Source: Guitar International Magazine
Reston, VA (February 21, 2018) – After a long breather, Guitar International magazine is back from our hiatus to offer our fellow music and guitar enthusiasts with news and information about acoustic and electric guitars.

We will, however, broaden our coverage to include more emphasis on vintage guitars, buying and selling guitars, music careers, unique guitars, music industry challenges, innovations and personalities. And to be true to our name, we will seek out musicians from around the globe to discover and learn more about the diversity of musical styles.
Slowly, we will be populating Guitar International with our vintage interviews, reviews, news and other information. So, in some respect we're at the crossroads, looking forward to a new improved phase of our magazine.
Initially, you may find Guitar International quite barren of what you relied on in the past with respect to nearly 2,800 pages of free content. We are reviewing our past content and will replenish GI with news and information that continue to be of value to you.
Guitar International is a reflection of how well our contributing writers and photographers, public relations professionals, both amateur and professional musicians, transcribers, webmasters, editors and other staff have worked to build a professional on-line guitar magazine that is free.
Our intent has always been and will continue to be to protect and respect our readers' privacy, and we will continue to seek to align our own ambitions and altruism to produce a good "product".  Our writing will seek to be of the highest standards, yet at the same time allow those we interview to speak freely. We will, however, retain our right to publish or not publish content at our sole discretion.
We also strongly support the efforts of our friends at both on-line and print guitar magazines and urge you to help them retain their professional staffs to provide news and information about acoustic and electric guitars.
We at Guitar International consider ourselves members of a guitar enthusiast community and we fully recognize the challenges to "get the word out" about our favorite musical instrument.
Many fine print and on-line guitar-centric magazines have come and gone since Guitar International was founded in 2005, as Modern Guitar Magazine.
It's a tough road. And we recognize the many challenges that have faced print guitar magazines since we started, and our hat's off to our competitors for their creative talents, fortitude and passion for our favorite instrument.
All of us at Guitar International look forward to serving you as one of many guitar news and information resources.
######
Press Release
Source: National GUITAR Museum
The National GUITAR Museum announced that Bonnie Raitt, one of the most accomplished guitarists of the past 50 years, will receive its annual Lifetime Achievement Award.
Raitt is only the eighth recipient of the award. Raitt's musicianship spans four decades of popular music, from gritty blues to chart-topping pop and rock.
"There has not been a more visible female player of the electric guitar in history," according to HP Newquist, the executive director of The National GUITAR Museum. "Bonnie's extraordinary skill and her inherent passion for electric blues—along with her mastery of slide guitar, one of the most difficult musical styles to play well—are second to none in modern guitar. She is both an icon and an inspiration, and we're honored to be able to recognize Bonnie's contribution to the guitar with this award."
"I'm so honored to be receiving this Lifetime Achievement award from the National GUITAR Museum," said Ms. Raitt. "It's an instrument I fell in love with when I was nine years old and taught myself from records. I love playing slide guitar and am so glad to be part of a tradition that is encouraging people to keep the blues alive and keep roots music vital and important. If people like me have been inspirations for young people, especially girls, picking up the instrument, I'm very proud. Thank you all so much for this honor."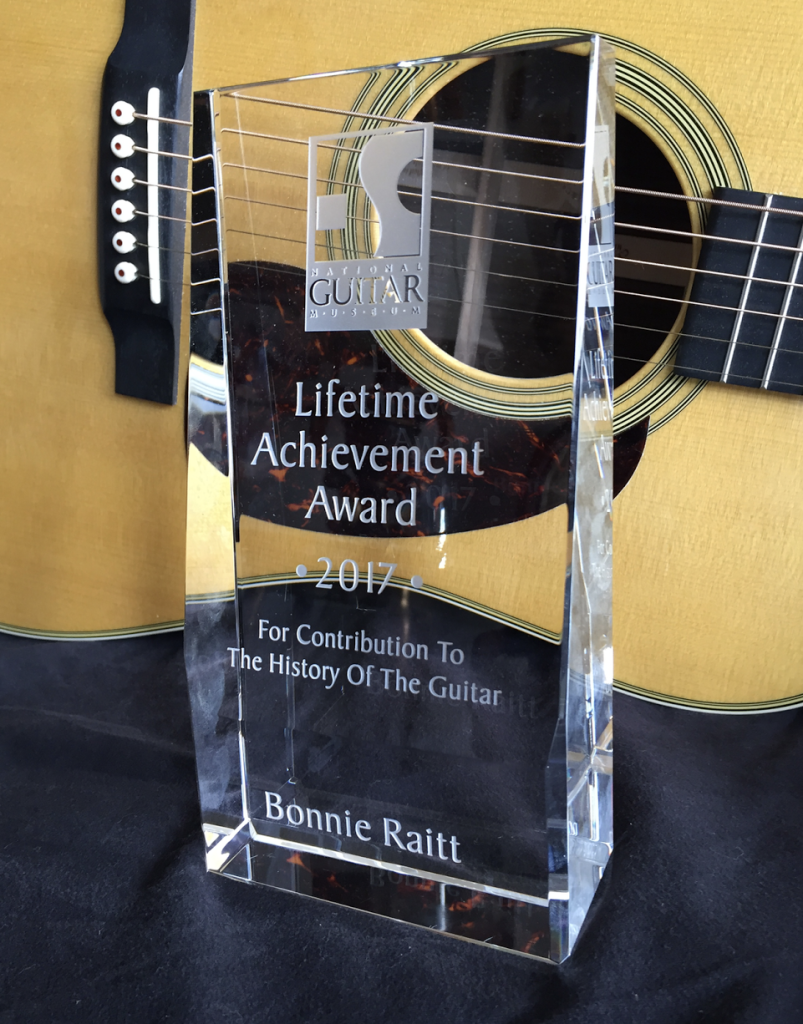 In addition to her stellar guitar playing, Raitt is known the world over for her singing, songwriting, and active support of notable causes. As a solo artist, she has received 10 Grammy Awards, reached multi-platinum album status, and released 20 albums—the most recent of which is "Dig In Deep." She will be touring the United States this year with James Taylor & His All-Star Band.
For more information, contact director@nationalguitarmuseum.com
Press Release
Source: ABC Public Relations
Legendary rockers Styx and Joan Jett and the Blackhearts are teaming up with Tesla for a summer U.S. tour that kicks off May 30 in Irvine, CA at the FivePoint Amphitheatre.
Tickets for various cities of the tour, produced by Live Nation, will go on sale starting Friday, February 16 at 10am local time at Livenation.com.
Styx and Tesla will be offering VIP packages via their own exclusive pre-sales beginning Wednesday, February 14 at 10 a.m. local time at StyxWorld.com and Teslatheband.com.  Fans can explore VIP packages available at the time of ticket purchase and at VIPNation.com.
Check out this video to learn more about the Joan Jett and the Blackhearts/Tesla tour:
STYX: Tommy Shaw (vocals, guitars), James "JY" Young (vocals, guitars), Lawrence Gowan (vocals, keyboards), Todd Sucherman (drums) and Ricky Phillips (bass), along with the occasional surprise appearance by original bassist Chuck Panozzo—would eventually transform into the virtual arena rock prototype by the late '70s and early '80s, due to a fondness for big rockers and soaring power ballads.
Over the course of their 40-year career they've released 15 studio albums, six best-of compilations and four live albums, garnering eight Top Ten singles. Styx has sold over 30 million albums worldwide.
Throughout their illustrious career, they've performed more live shows since 1999 than all of the previous years of its career combined. Two Super Bowl appearances, Pollstar box office chart-topping tours with Def Leppard, Journey, Boston, and Bad Company (to name only a few), two more studio albums. September 2, 2016 marked the long-awaited release date of Styx: Live at the Orleans Arena Las Vegas  on DVD, Blu-ray and Digital Formats via Eagle Rock Entertainment.
The video captures the band performing in July 2014 such fan favorites as:  "Too Much Time On My Hands," Fooling Yourself (The Angry Young Man)," "Renegade," and more. It also includes a special surprise visit from Don Felder—formerly of the Eagles—for a rousing performance of "Blue Collar Man (Long Nights)."
It was released on CD July 24, 2015. After 14 years, Styx's sonically sweet 16th studio album and its most ambitious, most challenging, and most rewarding album to date, The Mission, was finally released June 16, 2017 on the band's label, Alpha Dog 2T/UMe. It debuted on various Billboard charts, including: #6 Top Rock Albums, #11 Physical Albums, #11 Vinyl Albums, #13 Current Albums, #14 Billboard Top Albums, #16 Retail, #17 Mass Merch/Non-Traditional, #29 Digital Albums, and #45 Top 200 Albums (includes catalog and streaming).
JOAN JETT & THE BLACKHEARTS:  Joan Jett is an originator, an innovator, and a visionary. As the leader of the hard-rocking Blackhearts, with whom she has become a Rock and Roll Hall of Fame inductee, she's had eight Platinum and Gold albums and nine Top 40 singles, including the classics "Bad Reputation," "I Love Rock 'N' Roll," "I Hate Myself For Loving You," and "Crimson and Clover."
Her independent record label, Blackheart, was founded in 1980 after she was rejected by no less than 23 labels. Blackheart is one of the longest running indie labels and continues to give voice to new bands.
As a producer, she has overseen albums by Bikini Kill, Circus Lupus, as well as the Germs' LA punk masterpiece, GI. Jett's music has become a permanent force in mainstream culture. Jett and the Blackhearts released their latest record, Unvarnished,  in 2013 and continue touring the globe with headline shows alongside fellow rock icons like The Who, Green Day and the Foo Fighters. Additionally, Jett has acted and appeared in movies & television, including the film Light Of Day.
Jett was also able to see her story told in The Runaways, the film based on (lead singer of The Runaways) Cherie Currie's book, Neon Angel, starring Kristen Stewart as Jett, and Dakota Fanning as Currie. Jett was close to the project, serving as executive producer.
In January, the documentary film based on Jett's life, "Bad Reputation," – produced by Blackheart's SVP Carianne Brinkman and directed by Kevin Kerslake – premiered to critical acclaim at the 2018 Sundance Film Festival, with the New York Post hailing that "'Bad Reputation' does it right, tracing Jett's trailblazing path as one of the first, and still the hardest-rocking, women."
TESLA: Over the course of their thirty-five-year career, the iconic Sacramento melodic hard rock quintet—Frank Hannon (guitar), Brian Wheat (bass), Jeff Keith (lead vocals), Troy Luccketta (drums), and Dave Rude (guitar)—sold more than 25 million albums domestically and played globally to sold-out crowds far and wide.
To say Tesla live is absolutely bombastic is an understatement, they are a hard rock band to beat all hard rock bands. Tesla's ninth full-length album titled, Shock, is due out fall of 2018. The highly anticipated album features Phil Collen of Def Leppard in the producer's chair and takes a big leap forward as they glance back on their Mechanical Resonance Live!  album.
By: Rick Landers
Recently, while at an open mic at ArtSpace Herndon, Virginia, one of the performers, Nicholas Black, pulled out his viola and played the 1982 composed tune, "Ashokan Farewell", by Jay Unger and Molly Mason.
The plaintiff farewell is a beautiful instrumental that wrenches the heart, makes us ache, and was introduced to most of us by the Civil War television mini-series of Ken Burns, during a reading of a letter from Major Sullivan  Ballou (U.S.) to his wife, Sarah.
Sullivan Ballou (March 28, 1829 – July 29, 1861) wrote the letter to Sarah a week before his death by a cannonball strike at the Battle of Bull Run, and it is forever seared into our collective memories by its beauty, and the underlying score of the "Ashokan Farewell".
In the early nineties, the instrumental became my wife's and my wedding song, and we hired a guitarist and violinist from the Shenandoah Conservatory in Virginia to perform it for our friends and family.
We would later see Jay and Molly play their now classic tune at a venue in McClean, Virginia, and it was as captivating as it was the first time we'd heard it played.
It seems the tune was inspired by an 18th century Scottish performer named Niel Gow (1727 – 1807). The story goes that upon the death of his second wife, Margaret Urquhart, Gow composed one of his best known tunes, "Niel Gow's Lament for His Second Wife".
And an often accompanying story suggests he put away his violin for ten years, which is most peculiar, if only because for most musicians that would be like living without oxygen.
After listening to Gow's lament on violin a few times, I sent a note to the award winning guitarist, Matt Palmer, to see if he'd heard the 18th century tune.
Matt told me that he'd recorded the lament just two months before, then sent me a link to a video of him playing it, most exquisitely, as I'd expected.
"Ashokan Farewell" is reminiscent of the Gow tune, although certainly it's more "in the style of", than replicated. Such tunes are drawn from a songwriter's musical roots, from places, from their innermost feelings, all while stirring a magical cauldron of notes, tones and emotions.
In the traditional fashion of folk music, the hand me down nature of a song's journey moves without exactitude, and migrates more by the emotional weight of a composition passed down between kindred spirits, one generation at a time.
By: Rick Landers

There's a lot of information and misinformation to be found on-line about Yamaha FG guitars when seeking out their history. And it's often a frustrating journey trying to get authoritative specifics about any particular FG model.
Prior to 1966, the Yamaha International Corporation sold many guitars under the "Dynamic" name. Several different styles and construction types were offered and the Dynamic era featured models named numerically that included: No. 20, No. 25, No. 100 and more, some with solid wood bodies, others were laminated with veneers.
During the 1960s, it's said Yamaha's guitar exports experienced trauma in shipment, with wood guitars warping, cracking and breaking. Financial losses by breakage became intolerable and Yamaha began to focus on improving the company's bottom line, yet in a way to not degrade the sonic quality of its product.
Around 1966, the Dynamic name would give way to a new Folk Guitar (FG) series of guitars. The FG line was developed to emulate the sounds of more expensive world class guitars, replicating or improving upon them, with many of their guitars wrapped in laminates of rosewood, mahogany and other tone woods.
It was a Yamaha FG-150 handed to Country Joe McDonald in 1969 at Woodstock that grabbed the attention of many music enthusiasts around the world.
And for today's Yamaha aficionados, the rest is history.
During the '70s Yamaha guitars could be seen on stage in the talented hands of such guitar masters as John Denver, Bert Jansch, Paul Brady, John Martyn, and decades later in videos of the remarkable singer-songwriter, Elliott Smith.
Still, today FG series guitars have fans around the world, with a few attaining some level of cult following.
One sought after FG is the FG-180, an all-laminate guitar and most notably those with green or red labels that cite "Nippon Gakki" (Japan Instrument). Although, some Elliott Smith fans seek out the Taiwan built FG-180 guitar he played. Regardless of their origins, both "versions" are wonderful acoustics.
Yamaha went offshore in '71 or '72, moving production of many of their FG guitars to Taiwan.
The early Taiwan built guitars have red labels and a "T" fronted serial code. The "T" designated the guitars Taiwan origins and it would make sense that Yamaha used up their stock of red labels, and excluded the Nippon Gakki print. It's also possible the Taiwan guitars had red labels slapped on them because they were meant for export. The history is muddy.
  Elliott Smith plays "Between the Bars" on his FG-180 (Taiwan).

Today, the labels on these early Yamaha guitars have become factors in how they are valued. A red labeled guitar with "Nippon Gakki" is generally valued more than a Taiwan guitar with a red label without the Japanese origin.
Some claim that the earlier Japanese FGs are better guitars than the Taiwan built FGs, however, it's a belief that seems more subjective than accurate. But, maybe this is just a manifestation of "Love the one you're with…" or "Sweet dreams are made of this…".
Even comparing one FG with another to make a definitive series-wide sound quality conclusion is faulty. There are just too many variables, like strings, age, construction materials, consistency in production processes, and the players themselves.
Sound comparisons between all laminated guitars and those with some solid wood features, can likely be drawn with more conclusiveness.  Some will be "S" designated models, that more often than not indicates that their soundboards are solid, with the backs and sides laminated. Some find these have more clarity and a punchy responsiveness. Still, it depends on the guitar and all of those pesky variables.
Yamaha apparently used quality tone woods, directionally layered to remarkable effect, and in a manner that can produce responses as good, and oftentimes better, than some other more expensive branded solid wood acoustic guitars.
Regardless of their materials, when fitted with a pickup and a few effects, the "Yammies" can be stunning beasts.
The masterful John Martyn, with his scruffy Yamaha FG in 1973 (BBC).
Out of thin air it seems some owners of the Taiwan made FG models have conjured an idea that the early Taiwan guitars were built by many of the same Japanese craftsman who built the Nippon Gakki guitars.
From a business perspective, it would have been a smart practice for Yamaha to have relied on its experienced Japanese craftsmen to train and mentor its new Taiwan workforce. So, it's a rational rumination.
But, so far there's no proof in that pudding.
Some guitar owners just have some hankering to have in their hands a Holy Grail guitar, one with a provenance that makes it special, unique or shrouded in some historical mystery or significance. And, the more that kind of lore is laid on a guitar, the more sellers will ratchet up their prices.
Thousands of the old Yamaha FGs may have bounced around the holds of ships, been left in cars to bake, or suffered an artful delivery toss onto a hard front porch. Still, in all likelihood the guitars just shook off such bad behavior and kept their side of the bargain.
For most peoples' money, like any guitar, an FG is only as good as how easy it is to play, how melodic it sounds and if it consistently and reliably does its job. Simple. Find a good one, put your favorite strings on it and make some music. Play it straight or install a pup, either way you'll have some fun when you let her rip. And, definitely, give it a chance to show it's true colors in some alternate and open tunings. It'll come alive!
                                                Yamaha FG-300 – Video courtesy of Bernard Vdd.
The bottom line is the Yamaha FG guitars were both hardy and inexpensive guitars, except for a few notable exceptions, and targeted a growing singer-songwriter market.
Today, many owners can honestly say Yamaha nailed it with the FG series. They not only met the needs of the Boomer generation, they exceeded them. And a half-century later thousands of these old Yamaha FG guitars are still around being played, and many are sleeping quietly in darkened closets, waiting to be reawakened and loved by a whole new generation of guitarists.
######
Editor's Note: Rick Landers has no affiliation with the Yamaha Corporation. He has recently acquired several vintage Yamaha guitars: FG-180; FG-200; FG-312-12; FG-412 and an FG-300.